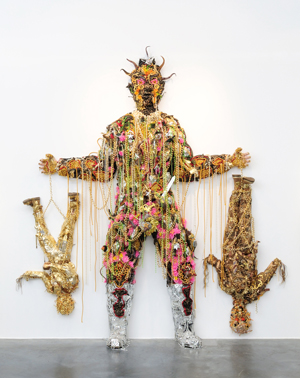 ArtSway presents, in collaboration with the Arts University College at Bournemouth, an ambitious new work by internationally renowned artist Hew Locke.
Locke's new commission will be constructed from cut sheets of plywood and installed at ArtSway, transforming the main gallery space and encroaching into the two side galleries. This structure references Locke's 2002 installation Cardboard Palace and is intended to be similar to a shrine, a space akin to a grotto where fantastical items are displayed, waiting to be discovered. It will feature many new works, including old share certificates, painted over and manipulated by the artist and objects produced by Locke, such as guns, swords, dolls, and pieces of costume. Locke likens this new structure to a rambling, dream-like space that 'takes your mind on a journey'.
Hew Locke was born in Edinburgh in 1959. He studied for a BA Fine Art at Falmouth, and an MA Sculpture at the Royal College of Art. He lives and works in London, exhibiting extensively in the UK and abroad

What got you started?
Painting a Hibiscus Flower when I was 15 in school – after an hour something clicked – and I realised "This is what 'Creating' means"
What's the inspiration behind your latest work?
In 'Starchitect' it is contemporary architecture, and the rise of the star-architect ( I'm just envious. I want to be them!)
What was the feeling, and what did you do to celebrate, when you sold you first piece of art?
I can't remember that far back! When I sold my first major piece ( to the Norton Foundation) I celebrated by buying an Apple mac

Whats the worst thing anyon has said about you?
I'm not spreading that around!
What's your favourite drink?
15 yr old El Dorado Rum. NEVER to be mixed with coke.
Does the unknown of the future scare you?
Yes – but not the unknowns of the art-world – that is constantly in flux and you just have to flow with it. Today's art-stars are tomorrows forgotten people.
How do you think future technology will help you and others create art?
Colossul prints, I hope, preferably printed up from mammoth digital files I can send from hope

What's the best thing about the art world to you?
The canapés
Who among your peers do you think is underrated or unknown?
Frances Richardson

What art work would you like to own?
Piera della Francesca – Baptism of Christ ( in the National Gallery)
How do you think art history will view you?
If they rememeber me at all I'll be really chuffed. I imagine some student in 200 years time digging up my digital files and saying 'Oh! This guy is kinda good! why does no-one talk about him?'
How do everyday people treat you when you tell them that you are an artist?
Usually they reply "My brother paints too" followed by " It must be nice to be creative". Every knows somebody who is really good, but inexplicably overlooked.
Categories
Tags