It's January in London and that can mean only one thing in the art world calendar – London Art Fair at the Business Design Center in Islington. This stalwart fair was for the longest time, the only real art fair in town, before the ultra cool and super contemporary Frieze pitched up it's massive tent in Regent's Park in October, attracting the big name galleries all vying for the opportunity to sell to major collectors and museums.
The London Art Fair has remained true and loyal, staying the course. The galleries in the main show work that does not scare the horses. Figurative work, dare I say even decorative pictures that would happily adorn the walls of smart houses in N1. The inclusion of the curated Project Art space upstairs makes the fair relevant in terms of contemporary art practice. Here, at least we have a chance to see work by young artists at emerging galleries.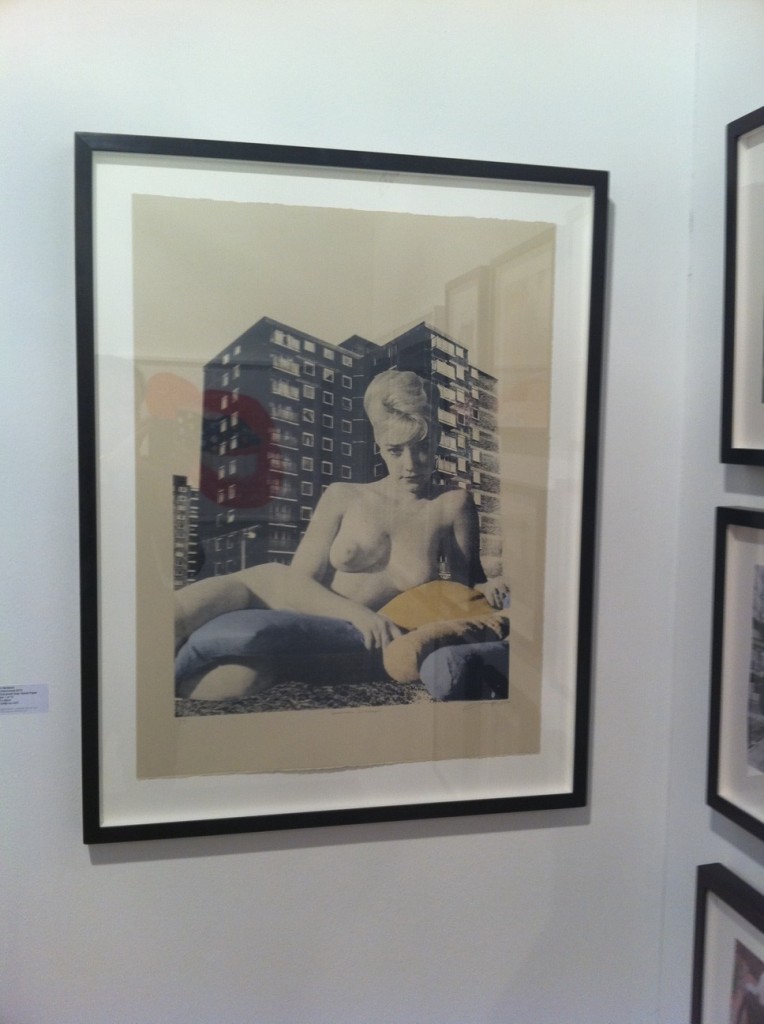 image: Sarah Hardacre Paul Stolper
Caution is the byword for this year's offerings, both on the part of dealer and buyer. Prints are aplenty and there is no better purveyor of this medium than Paul Stopler, whose booth is to be found on the ground floor. Paul was showing a stunning collection of Sir Peter Blake's Paris Suite, edition of 100 for £840 each unframed, also a blue chip set of Hirst butterflies an edition of 15 at £3,000 each unframed, a perfect safe bet. Susan Hardacre's strong photographic montages are great value at £480 framed.

Image: Paris Suite Sir Peter Blake courtesy Paul Stolper
Adjacent to Paul Stopler, is the contemporary gallery of the moment – FAS. Their opening last week for Nick and Rob Carter was mobbed with the good and great. They had taken one fine neon example to Islington along with a remarkably good painting by Dan Coombs. Toby and Emily there are very personable with keen eye for spotting talent, their exhibition programme being consistently first rate.
Behind FAS is the Sims Reed gallery, worth noting for the fact that they have a fine selection of prints by the likes of Hamilton and Hockney. They impressively brought along Grayson Perry's 'The Walthamstow Tapestery' originally shown by Victoria Miro. The modern morality tale is an edition of 12 and was on offer for £60,000 – Definitely an investment for the serious collector.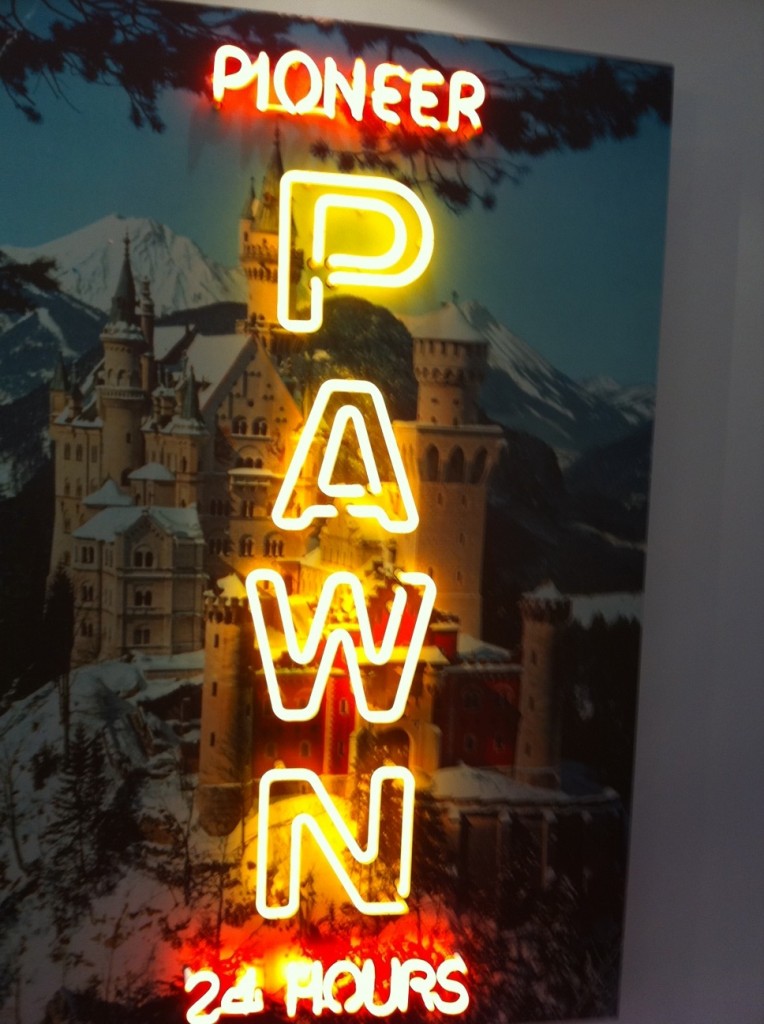 Image:Nick and Rob Carter courtesy FAS
Across the aisle still on the ground floor, I was very taken by the work of Rose Wylie shown at the Union gallery, a 76 year old 'newcomer', who was described by Germaine Greer in the Guardian as the 'hottest new artist', her work has also been picked up by the seriously cool fashion label Twenty8Twelve run by Sisters Savannah and Sienna Miller. Here you can pick up a large watercolour piece for a reasonable £2,000 framed and the two large oil pieces are priced at £8,000 and £10,000.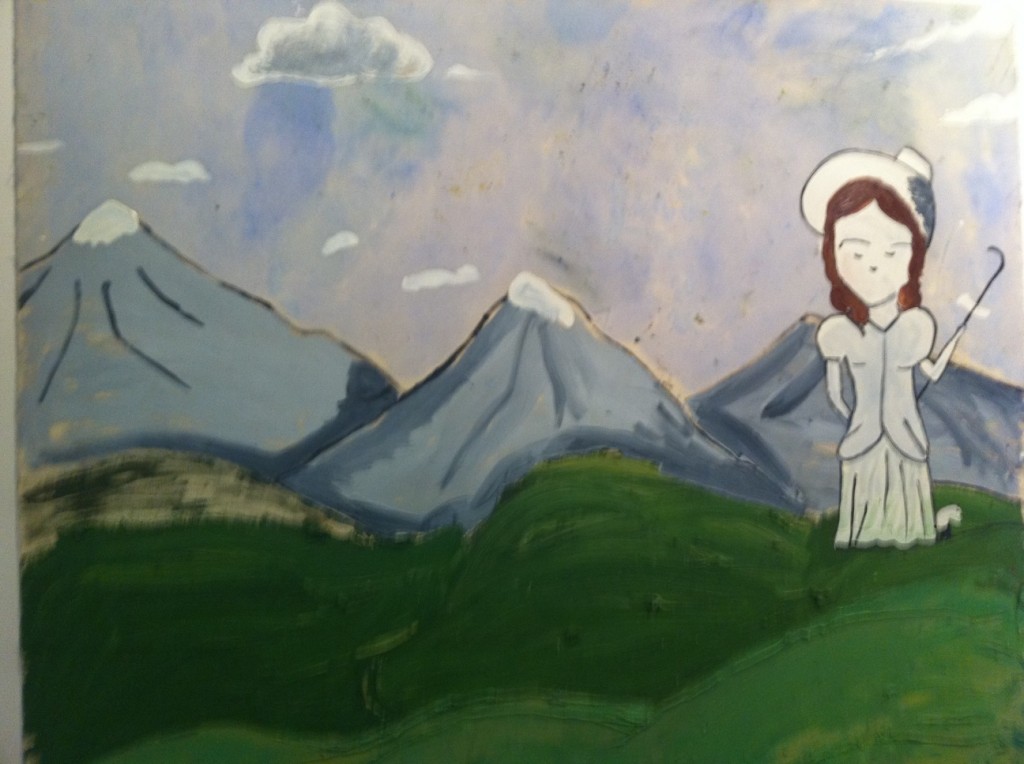 Image: Rose Wiley Courtesy of Union Gallery.
Upstairs on the main floor, one is greeted by some modern masters at Richard Green, showing Lowery and Hitchens, opposite were some good photography at Purdy Hicks – Tom Hunter's Victoria Falls is quite striking and is on at £8,000.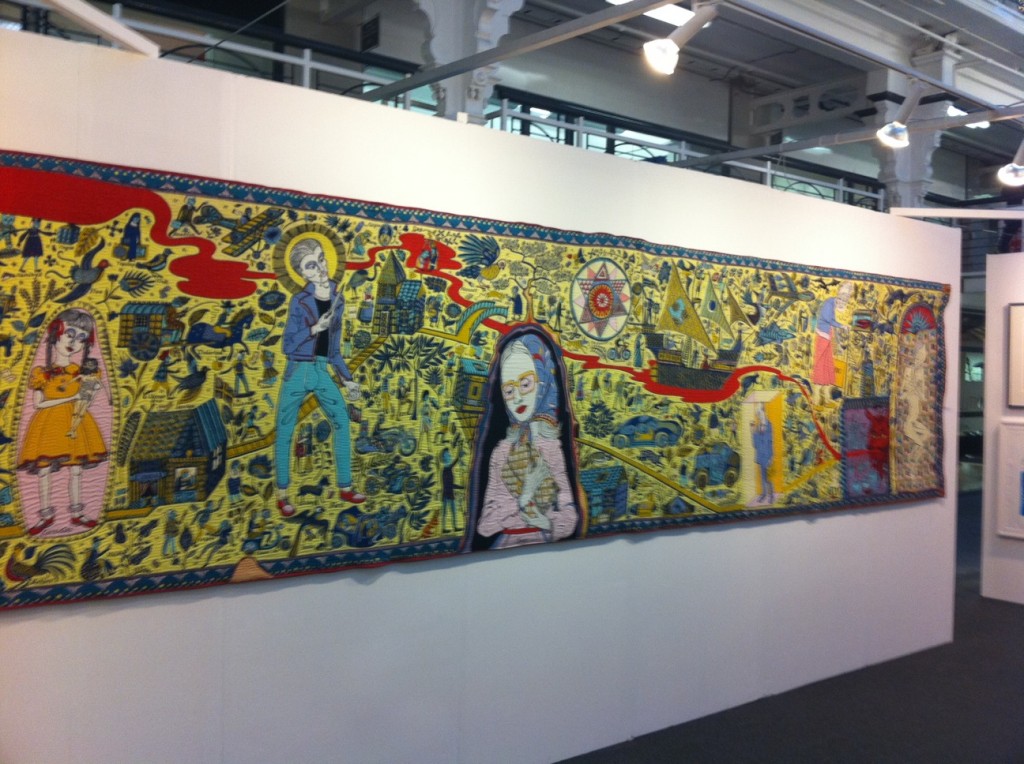 Image: Grayson Perry Courtesy Sims Reed Gallery
The galleries at this point tend to merge, with each having a smattering of contemporary pieces and prints, as one walks towards the rear of the fair, the quality of work diminishes with the notable exception of TAG fine arts, run by the singular Mr. Hobby, his fresh selection of prints are always well sought after and in particular the cut out work of Rob Ryan.
Upstairs now and for the most part these galleries look tired and rather dull, the work is well done, but lack youthful vigour. I suppose many of the galleries have been participating in the fair year on year and so trot out the same old artists to the same old clients, so if it not broke, then why try to fix it. There are a few 'cooler' galleries are to be found up here, such as Eyestorm and the clean graphic work at Mark Jason Gallery, I particular like the woodcuts by Katsu Yuasa there.
Onwards into the adjacent space with more mediocre galleries, although I did spot some relatively decent flower photographs by Lisa Creagh at The Art Movement.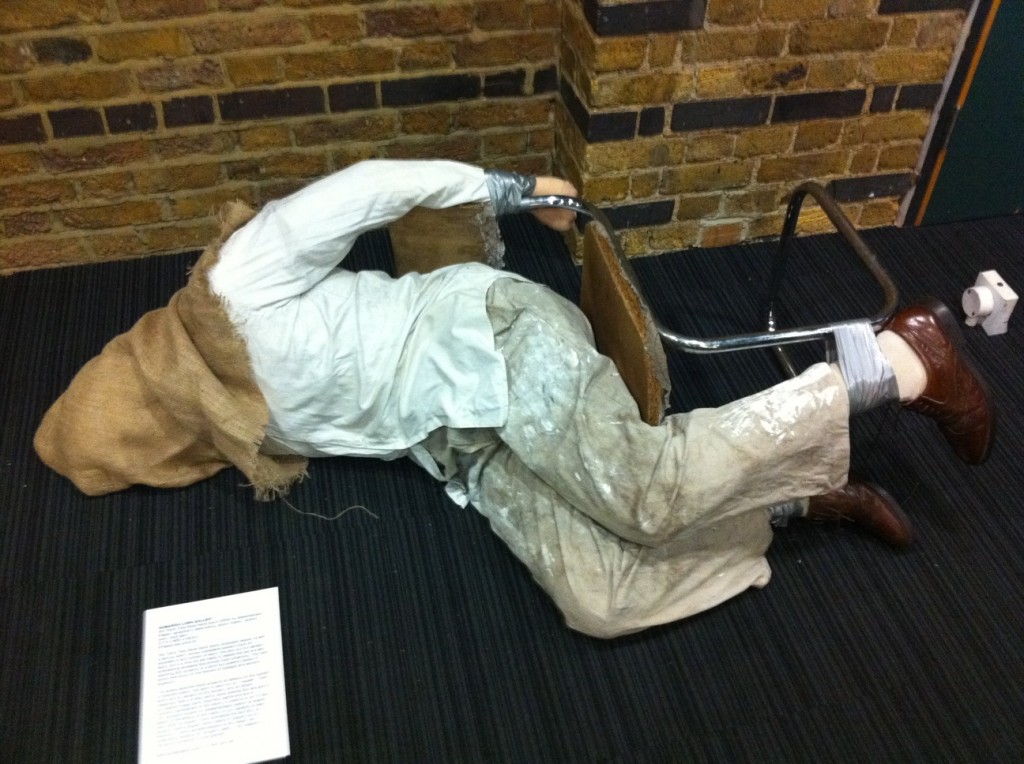 Image:'We Think They Must Have Souls' Littlewhitehead Sumarria Lunn
In the connecting corridor to the Project Art space to my initial horror and then delight was a brutal installation piece by the collaborative Scottish duo – Littlewhitehead. This piece entitled 'We Think They Must Have Souls' is of a man with a brown cloth bag on his head, tussled up with duck tape, tied to a chair on the floor. It is an arresting sight and reminds one of torture victims and oppressive regimes. At last we were getting to an art with some punch. This installation is part of a series of provocative works dotted around the fair. On the second floor lobby is 'Spam', a life sized wax figure of a child wearing a Darth Vader helmet sitting clenched fisted in a deserted canteen. This image was originally taken from an Internet phenomenon and lends the disconcerting artwork a popular culture context.
Elsewhere at the entrance of the fair – A horror-style black bible resin cast made with the ashes of 100 burnt copies of Adolf Hitler's Mein Kampf. The allusions and loaded connotations are a touch obvious yet the piece still retains an uncomfortable impact. More playful is the portrait of the Queen deep battered fried in batter, a tongue in cheek reference to their Glaswegian origins.
For me Littlewhitehead's best installation to date is 'It Happened in The Corner' which featured in Newspeak: British Art Now at the Saatchi Gallery. A menacing gang of hoodies, ominously huddled together and banished to the corner of the gallery.
Full credit to this challenging and edgy duo and to the newcomer gallery, a likewise double act – Sumarria Lunn for making the London art fair a much more engaging experience with this exciting series of artwork appearing outside the traditional confines of the booth.
Up in the Project Art space, galleries of note include Nettie Horn, with very interesting video and photographic work by the Finnish artist Anttii Laitinens, who explores issues of national identity and masculinity through his series of comic performance related endeavours, such a building an island or rowing a piece of preserved ice across a lake The fine photographic print entitled 'Growler' is priced at £3,600, edition of 6.
Other work that stands out is the South Korean artist – Shan Hur whose amusing installation at I-MYU Projects is a faux architectural intervention, whereby cultural history is unexpectedly revealed in the holes that incongruously appear in the walls of the booth.
The pencil drawings by Kieran Moore at the Cross Gallery were exquisitely done and priced at £950 each. The reconstructed feudal themed images of Suzanne Moxhay at Bearspace are potent and fecund. The theme of 'Ephemeral/decay' at Ordinary-Light photography features strong nocturnal scenes by Rut Blees Luxemburg.
The London art fair strikes the right balance between traditional, Modernist and contemporary. Prints by Pop artists spanning different generations, paintings by important British artists, like the Keith Vaughan at Robin Katz and the Brigette Riley pieces seen at few booths. The heady days of the market 10 years ago where one would see a rash of red dots appearing on the heaving opening night with galleries clearing up are definitely gone, but sales seem to be a lot healthier with a return of confidence in the economy.
The inclusion of Photo 50 and the Project Art space means that fair continues to push boundaries allowing for work by emerging artists that would not be out of place at Frieze. For me though, the stars of the fair were the installations by Littlewhitehead, which are clever in a disconcerting and dark comic way.
Ben Austin
Categories
Tags