London Art Fair 2011. It may not have the artworld glitz of Frieze, but the twenty-third London Art Fair is a whopper and it's getting hipper. Not so long ago, it filled what had once been the Royal Agricultural Hall (built 1861) with galleries catering to the affluent collector, a sort of Waitrose of art.
They remain, but nowadays, the fair also has edgier ' Art Projects' , talks and events, and expanded into modern white spaces beside the restored hall. Even art scenesters can feel bludgeoned by the overwhelming choice, like citizens of old Soviet bloc countries hitting a Western supermarket for the first time. This year I was there to take
it all in. The first thing I encountered was a kid at a school bench wearing a Darth Vadar helmet- Spam is one of ten mad sculpture/installations by Glaswegians littlewhitehead (with gallery Summaria Lunn) randomly scattered around the place. So far, so good.
The main Victorian hall is still a matrix of gallery stands offering tasteful works by mature contemporaries. For anyone with an interior designer contract to grace walls for a whole block of new riverside flats, this must be a one-stop shop. All manner of styles, generally accomplished works, but few with sock-blowing-off power. Something on the Charlie Smith Gallery stand caught my eye- paintings of King Kong in the jungle with an adolescent chutzpah, by James Jessop. I asked him if he didn' t want to be upstairs, with the edgier Projects stuff. ' More people see it here' , he said. ' I' m pleased. I' m a mid-career painter now!'
Personally, I' m soft on urban paintings, and I had to clock works by solid names like Alicia Dubnyckyj and Jenney Pockley-they both do world cities from above and are with Sarah Myerscough Gallery- and Ronald Dupont (Stephanie Hoppen Gallery), who captures the buzz of Manhattan with summer-in-the- city colours. Also, I couldn' t help but be intrigued by a big canvas by Jim Whittey (Adam Gallery) of sharks slipping through a forest- serene, slightly sinister surrealism. But the lure of the cutting edge was calling me to the side spaces. They lie just small steps from the main hall, but should be like a giant leap from Mayfair to Hoxton.
I made my way to the balcony to get an overview of the Projects space (hey, that could be a name for US hip-hop art). A man from Christie' s was auctioning works for Maggie' s cancer care charity.
Bidders held cards that were in English, German, French and, chasing the global market, Chinese. Lot no13, a bog-standard-looking Jamie Reid print with a skull in place of the Queen on a Union Jack, rapidly doubled from £400 then plateaued for a while until a spurt of bids whizzed it to £1300. Lucky 13 for someone. Nearby, the photography section Photo50, which last year had been really interesting, disappointed. The one star there was definitely Scarlett Hooft Graafland, with huge pictures shot in the Canadian north, injected with surrealism. Exceptional stuff, an oddly successful mix of raw nature and
human quirk. Elsewhere in the Projects, many well selected galleries made good show, but the look of much of the allegedly cooler works seemed to blend into the ' safer' fayre back in the grand old main hall. Mind numbed, it was time to go.

Image:Scarlett Hooft Graafland, courtesy Michael Hoppen Contemporary
Aha, by the exit, more of littlewhitehead' s excellent mentalist works! In Glasgow, they' ll batter and deep-fry anything, and Whiteread have done a 200-year-old Bible and called it The Thing. It was a half-baked book already anyway. The London Art Fair needs more of that sort of silly-but-risky attitude, which anyhow gets commoditised soon enough. Sure, keep the generally fine core of genteel galleries, but those edges need a bit of deep frying.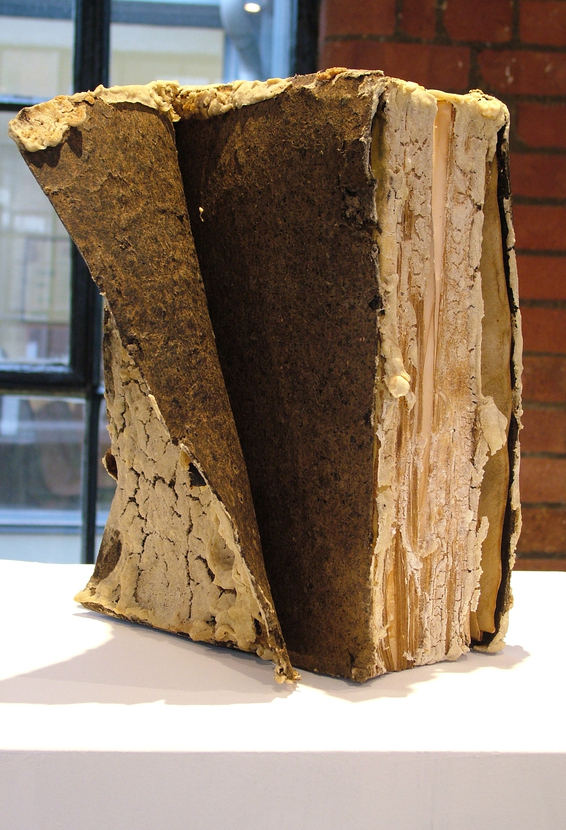 Image:The Thing (2010) by littlewhitehead 200 year old bible, battered and deep fat fried W17 x D9 x H26cm
London Art Fair To 23rd January 2011 Business Design Centre, Islington, London N1 0QH www.londonartfair.co.uk
Categories
Tags