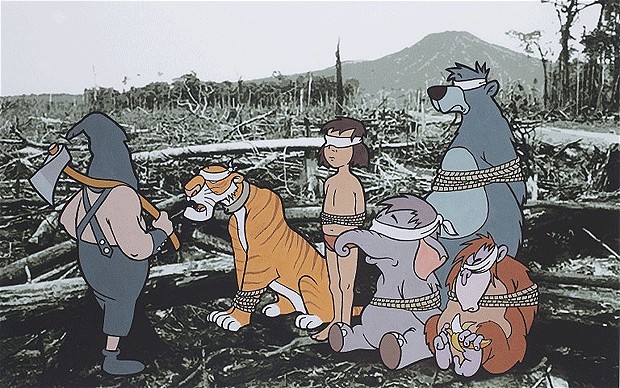 An original art work by Banksy, for a Greenpeace Save or Delete campaign photographic poster, is to be sold at Bonhams, New Bond Street, as part of its Urban Art sale on 11th January 2011. Estimated at £60,000 – 80,000, the unique piece (lot 67) was given to the vendor by the artist himself.
The art work was commissioned by Greenpeace to highlight the problems of global deforestation as part of their Save or Delete campaign. The image, which features some of the main characters from Disney's The Jungle Book transposed onto a picture of a devastated forest, was intended for use on posters, billboards and postcards. While it was printed, it was never put into circulation because of the protectionist policies at Disney. A version of this poster is illustrated in Banksy's Wall and Piece book.
Other sale highlights include a performance piece (lot 18) created by American graffiti artist, Futura 2000, for punk rock band The Clash's Combat Rock tour. Best-known for painting subway trains during the 1970s, Futura 2000 was commissioned to paint the stage backdrop for The Clash whilst they performed. Estimated at £15,000 – 20,000, it is believed to be the only work to have survived from the gigs.
Another highlight is a giant steel suspending sculpture modelled as a Shark (lot 51) by British artist DNTT (Tony d'Amico), whose work has recently been exhibited at Glastonbury Festival (2010) and Mutate Britain Exhibition (2009). It has attracted a pre-sale estimate of £8,000 – 12,000.
In addition to Banksy's Save or Delete Jungle Book, 2001, the sale features nine works by the artist. They include:
• Lot 1 – Banksy, Balloon Girl, 2004 (estimate £5,000 – 7,000)
• Lot 10 – Banksy, Rude Copper, 2002 (estimate £4,000 – 6,000)
• Lot 11 – Banksy, Everytime I Make Love To You I Think Of Someone Else, 2003 (estimate 30,000 – 40,000)
• Lot 27 – Banksy, Soup Can, Lilac/Cherry/Mint, 2005 (estimate £3,000 – 5,000)
• Lot 35 – Banksy, Watchtower, 2007 (estimate £5,000 – 7,000)
• Lot 36 – Banksy, Bomb Love, 2004 (estimate £4,000 – 6,000)
• Lot 45 – Banksy – Portrait of an Artist, circa 1998 (estimate £50,000 – 70,000)
• Lot 58 – Banksy – Have a Nice Day, 2002 (estimate £4,000 – 6,000)
• Lot 66 – Banksy – Flag (Gold), 2007 (estimate £2,500 – 3,500)
Other interesting lots include:
• Lot 2 – Shepard Fairey, Change, 2008 (estimate £1,000 – 1,500)
• Lot 7 – Eine, Circus A-Z (estimate £2,000 – 3,000)
• Lot 20 – JR, Street Kidd, Favela Morro da Providencia, Rio de Janeiro, Brasil, 2008 (estimate £15,000 – 20,000)
• Lot 57 – Shepard Fairey, Peace Goddess on Wood, 2008 (estimate £8,000 – 12,000)
Categories
Tags