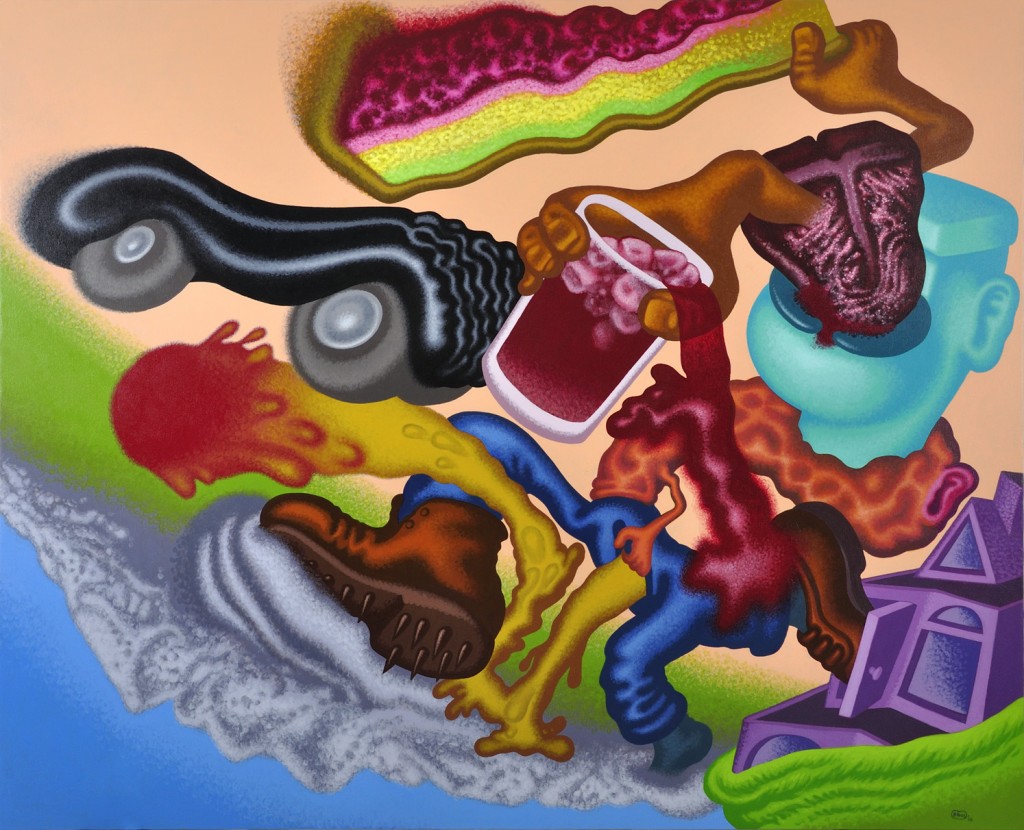 Haunch of Venison Gallery is pleased to announce a survey exhibition of paintings by Peter Saul curated by Chris Byrne Through to January 8 2011. Twenty important paintings from the span of the artist's career will be exhibited alongside a selection of new works made especially for the exhibition. Early sketchbooks and a collection of the artist's correspondences and personal artifacts will also be exhibited. A catalogue with introductory essay by Eric Fischl will accompany the exhibition.
The exhibition features significant works from each decade of Saul's celebrated career. Highlights include: 'Typical Saigon' (1968), Saul's response to the atrocities of the Vietnam War; 'Oedipus Junior' (1983), a shocking self-portrait in which the artist simultaneously pierces his eye with a paintbrush and castrates himself; 'Columbus Discovers America' (1992-1995), which rejects the fable of Christopher Columbus by depicting the horrors of America's discovery and 'Refrigerator Break Down', a new and updated work in response to his renowned series of Icebox paintings from the 1960s.
Described by New York Times art critic Holland Cotter as "a classic artist's artist and one of our few important practicing history painters" Saul is best known for his paintings depicting exaggerated, provocative images of pop culture ranging from well-known art references to political icons. Saul distorts his figures in order to draw attention to and critique contemporary culture. His paintings are politically charged and sardonically respond to past and current historical events. While working in the early 1960s, Saul's inclusion of bright colors and everyday subjects positioned him as a predecessor of the Pop Art movement.
"Much has been made of Peter's irreverent attitude toward the conventions and dogmas of contemporary art," said curator Chris Byrne, "but what is often overlooked are the outstanding, unprecedented accomplishment of his paintings. This exhibition focuses on the range and comprehensives of his pictorial vocabulary and examines his prophetic and enduring career in painting."
Born in San Francisco in 1934, Saul studied at the California School of Fine Arts and received his BFA from Washington University in St. Louis. Saul was the subject of a major retrospective at the Orange County Museum in 2008, organized by former New Museum curator Dan Cameron and has exhibited at the MoCA Chicago, Aspen Art Museum, Colorado and the MoMA, New York. His works are in permanent museum collections around the world including the Pompidou Centre, Paris; the Metropolitan Museum, New York; MoMA, New York; Museum Ludwig, Cologne; and SF MoMA.
Chris Byrne is an independent Dallas-based curator and the curator of numerous one-person exhibitions and national museum lecture circuits. Byrne met Peter Saul in 1987 and has been a friend and collaborator of the artist since the mid-1990s. He is the current Chairman of the Board of Directors of the American Visionary Art Museum and in 2008, he co-founded the Dallas Art Fair. Byrne graduated with a BFA from the University of Pennsylvania and continued his education at Pennsylvania Academy of the Fine Arts.
Categories
Tags