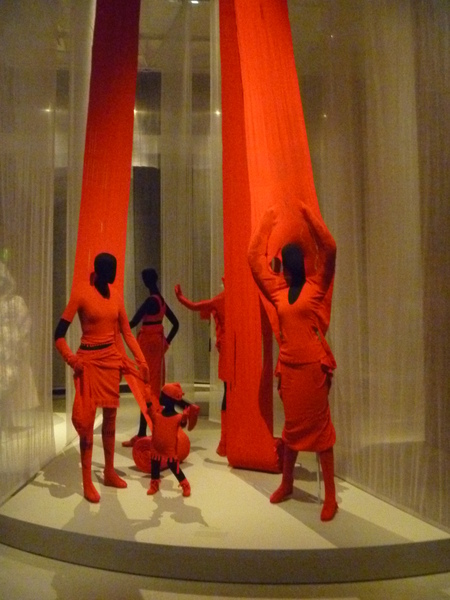 Issey Miyake – POC Collection – Spring/Summer 1999
Future Beauty: 30 Years of Japanese Fashion exhibits the story of the progressive Japanese designers who, since exploding on to the fashion scene in the early 80s, have altered contemporary perceptions of what is fashion, hence turning fashion 'very firmly into art'.
I have always been envious of those who dress exclusively in black, can pull off layering, and make the androgynous look sexy.
The mysteriousness conveyed by this style brings with it an air of intimidation: the 'I have managed to escape the brashness of the Western fashion machine' look. Nobody is trying to look like Cheryl Cole here, no false nails, hair, eyelashes – the ultimate 'less is more' guise.
Instead the garments on display at Future Beauty exemplify the deconstruction movement in fashion of the 80s and the concept of beauty being found in imperfection (the Japanese call this Wabi-Sabi). The sophistication of the designs on show is further enhanced by the exhibition's clean composition. The curator is Japanese fashion historian Akiko Fukai and the exhibition is designed by Sou Fujimoto. There are no tacky tricks just beautifully constructed garments on display. The photographs and video work are demonstrative rather than invasive – as Naoya Hatakeyama's photographs of garments when folded and flat intriguingly complement the same garments when displayed dressing a mannequin.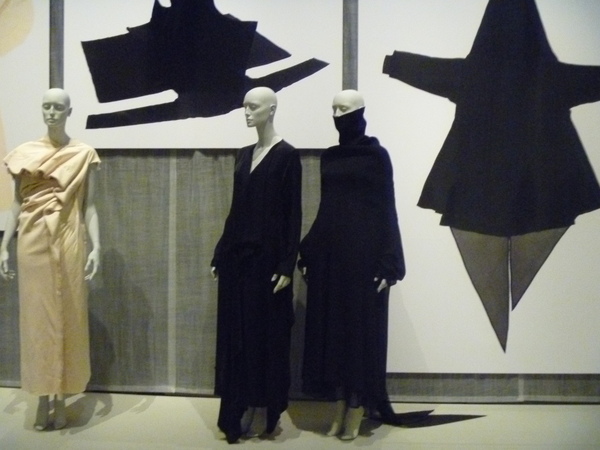 Naoya Hatakeyma photographs alongside garments
As to be expected the key designers on display at Future Beauty are Issey Miyake, Rei Kawakubo and Yohi Yamatoto. But newer designers are included: Tao Kurihra; Matohu and Mintdesigns, amongst the best known. Rather surprisingly, there wasn't too much black on display. I was impressed with the array of beautiful hues in the 'Tradition and Innovation' section. Junya Watanabe's organdie honeycomb construction dress, skirts and jackets, for Comme De Garcon, are breathtakingly beautiful. Wantanabe, a protégé of Kawakubo, is renowned for using modern materials to create unusually constructed pieces. My favourite piece of the entire exhibition was his golden brown net dress.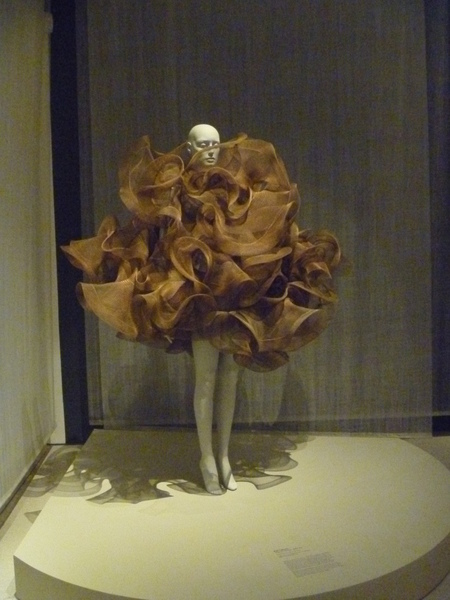 Junya Watanabe – Golden Brown Nylon Net Dress – Autumn/Winter 1993-4
I heard no giggles or ridicule in front of any piece, but did catch some serious mumblings. I heard someone say, 'Now that is the sort of piece Zaha Hadid would wear'.
Most interesting, for me, were the subtle discussions on gender and sexuality. Suzy Menkes, in response to one Japanese designer's collection, once said that to understand contemporary fashion we must strip back and consider the male wardrobe. Comme de Garcon means 'like a boy' and in general the show didn't feel like an all girl zone. The exhibition, although displaying exclusively female clothes, didn't seem to have a sexual preference. Walking around the exhibition it didn't have the usual Topshop dressing room/catwalk show feel that a new fashion exhibition can attract. Instead, the exhibition is clean, classy and stylish… kind of like my dream man!
Tory Turk
Categories
Tags