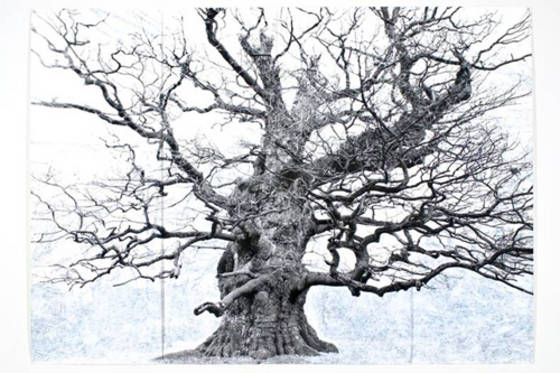 Image:Majesty, 2006 Gouache on fibre based photograph mounted on paper 300 x 420 cm
Tate and Unilever have announced that Tacita Dean will undertake the twelfth commission in The Unilever Series for the Turbine Hall at Tate Modern. The work will be unveiled on 11 October 2011.
Tacita Dean is one of the most respected artists working today. Her practice encompasses artist's books, drawing, found objects, photography and sound installations, but she is best known for her use of 16mm film. Dean's films act as depictions or portraits rather than conventional narratives, capturing fleeting natural light or subtle shifts in movement. Her film Banewl 1999 charts the effect of a solar eclipse on a farm in Cornwall, while Disappearance at Sea 1996 documents the transition from day to dusk as a lighthouse near Berwick-upon-Tweed becomes illuminated. In these works, her static camera positions and long takes allow events to unfold unhurriedly. Other works have attempted to reconstruct events from memories and remnants, such as recording a journey to find Robert Smithson's Spiral Jetty or examining Donald Crowhurst's thwarted attempt to circumnavigate the world.
Dean's interest in the cinematic also extends to her work in other media. Works such as Foley Artist 1996 use analogue equipment as a prop to conceal a digital installation, creating an imaginary soundtrack through its sound effects. Her series of works on paper The Russian Ending 2001 borrows its title from the early Danish cinema tradition of making two alternate endings for a film: one happy for the American market and one tragic for the Russian market. The work consists of a series of etchings based on found postcards of catastrophes, which Dean annotated with handwritten cinematic notations.
Many of Dean's works demonstrate the ways in which architectural space can be captured and transformed by the camera lens. These effects can be seen in Craneway Event 2009, the most recent in her series of film 'portraits'. This work follows the choreographer Merce Cunningham (1919–2009) and his dance company rehearsing over three days in a former Ford assembly plant in California, designed by the architect Albert Kahn. Built of glass and steel and overlooking the San Francisco Bay, Dean's film allows the ever-changing light of this environment to fall in rhythm with the dancers' movements.
The Unilever Series: Tacita Dean is curated by Nicholas Cullinan, Curator of International Modern Art, Tate Modern, assisted by Iria Candela, Assistant Curator, Tate Modern.
Tacita Dean:www.frithstreetgallery.com/artists/bio/tacita_dean
The Unilever Series:www.tate.org.uk/modern/unileverseries/
Categories
Tags