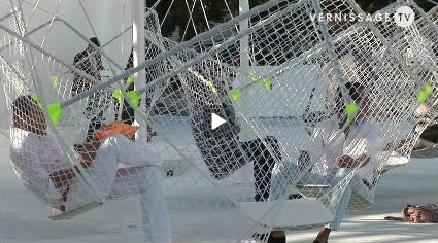 Our Friends Over at vernissage.tv are in Miami for Design Miami and Art Basel Miami. Here is the first of a few video's they are shooting out there.
Design Miami calls itself the Global Forum For Design. This year, the fair has moved near the Convention Center, where Art Basel Miami Beach takes place. But the fair still takes place in a tent, this time the facade of Design Miami has been designed by Moorhead & Moorhead. There's also Design Miami's Designer of the Year. This year Konstantin Grcic has been awarded the prize. Grcic created a six-point star-shaped seating structure called Netscape. Other highlights include the light installation "Falling Light" by art and design studio Troika (coming soon: interviews with Troika and Konstantin Grcic).
Design Miami 2010, Press Preview, November 30, 2010.
About Mark Westall