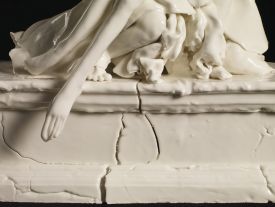 19 November 2010 – 22 January 2011
White Cube Hoxton Square is pleased to present an exhibition of new work by Rachel Kneebone. Over the last few years, Kneebone has created a unique space in contemporary art with her expressive and delicately worked porcelain sculptures. The exhibition is in two parts: 'Lamentations 2010' in the ground floor gallery and in the first floor gallery, 'Shields' (2010).
'Lamentations 2010' is the title for two sets of three sculptures that were created in the pursuit of forms that could express the trauma of death, loss and grief. Kneebone started with the theme of death in the work, 'As grave as the imagined as frivolous as the eternal', addressing each of these universal experiences sequentially, in three separate works.
Kneebone confronts grief by casting a female figure at the centre of the sculpture 'Eyes that look close at wounds themselves are wounded'. In this work, the thick vine-like cord wraps itself tightly round the plinth, serving as both the bandage binding this volatile life force as well as the rope that threatens to choke it to death. This cord mirrors the grip of the ribcage around the figure above – a figure that, consumed with grief, seems to wrench herself apart. While in 'Mine heart is turned within me a collapsed figure', head hurled back, appears to emit a silent scream. These figures depart from literal depictions of the body, expressing feelings directly and viscerally.
In the first floor gallery, the six works – the 'Shields' – are mounted on the walls. Kneebone reworks her motifs: legs and phalluses protrude and entwine to create gnarled and knotty portals. One shield presents a cascade of legs kicking and tumbling over its bottommost reach, but in every shield the writhing body parts gravitate around a central hole; vines and sinews obscure, or perhaps protect this possible point of entry. The shields are shown alongside a group of ten drawings, 'A Lover's Discharge' (2010), and in both bodies of work Kneebone's rearrangement of body parts utilises the slippage between abstraction and figuration, directly addressing the synergy between gender and form.
A fully illustrated catalogue, with texts by David Elliot and Elizabeth Neilson, will accompany the exhibition.
Rachel Kneebone
Lamentations Triptych [Detail]
2010
Porcelain
Triptych,
I: 12 13/16 x 16 9/16 x 9 1/2 in. (32.5 x 42 x 24.2 cm)
II: 13 3/8 x 16 5/16 x 8 7/8 in. (34 x 41.5 x 22.6 cm)
III: 12 3/16 x 16 1/4 x 8 1/16 in. (31 x 41.2 x 20.5 cm)
© the artist
Photo: Stephen White
Courtesy White Cube
Categories
Tags