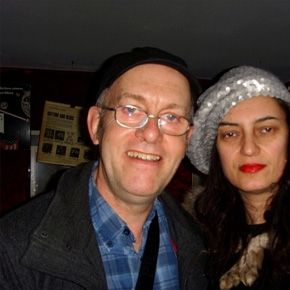 FAD only knew Richard a few months but In that time he produced lots of great articles for us and even started to shot video and take photos Even though It was only a short time IT was a great/fun time.
Read Richard Martin Articles here
Decima & The Residence present a show of portraits of Art Pops and Art Pops hero Richard Martin (1954-2010), by Richard himself and by Art Pops.
Featuring many art pops work depicting other art pops including Richard's son Lewis Martin, Harry Pye, Ian Wright, Jason Gibilaro, Jackson Ferguson, Oliver Dungey, Ingrid Z, Alex Chappel, Geraldine Ryan, Gabriella, Simon Ould and poems from Steve Micalef.
PLEASE GET THERE QUITE EARLY – to… catch Steve Micalef's wonderful poems about Richard – Unfortunately the gallery has recently been the victim of an irritated neighbour complaining about noise – so please don't assume that this event will over-run, as has become typical of the gallery….
One of Richard's greatest quotes was about a Decima show at The Residence back in May – making the venue all the more appropriate:
"dear art pops ON SUNDAY 30-5-10 3-6pm decima arts present a high art and high tea afternoon at the exclusive RESIDENCE ART GALLERY 229 VICTORIA PARK RD E9 7HD where the finest quality tea and cakes will be served in this magnifent new gallery see www.residence-gallery.com I of course shall be there dress code : decorum and panache this gallery could be described as the guggenheim gallery of London's east end : andre breton style surrealism meets hollywood glamour meets 21C futurism and street art chique – this is the place to be seen- be prepared for the typically scintillating mix of decima style high and low culture and conversation -this could be the new Gertrude Stein / AndyWarhol/Sid James art salon and a dynamo for the cutting edge – hope you can make it"- www.artpopsartpops.blogspot.com cheers richard !
THANKS RICHARD WE LOVE YOU AND WILL MISS YOU
www.residence-gallery.com/
Categories
Tags