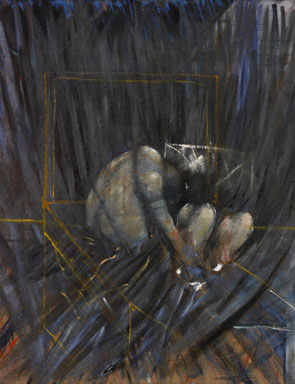 Image: Francis Bacon (1909-1992), Untitled (Crouching figures), c.1952, oil on canvas, 147.3 x 132.2 cm. The Estate of Francis Bacon, courtesy of Faggionato Fine Arts, London.
The Estate of Francis Bacon has generously placed an important painting by the artist on loan to The Courtauld Gallery. Untitled (Crouching Figures), c.1952, went on display from yesterday and will initially be presented alongside Honoré Daumier's Don Quixote and Sancho Panza, c.1870, in recognition of Bacon's admiration for Daumier's masterpiece.
When James Thrall Soby, curator at The Museum of Modern Art, New York, was researching his book on Francis Bacon he contacted Harry Fischer, director of Marlborough Fine Art, the artist's dealer. Fischer was able to give him some fresh insight into Bacon's artistic taste and favourite works, noting: "He considers Daumier's Don Quixote and Sancho Panza and El Greco's View of Toledo to be amongst the greatest paintings in the world…". Bacon knew Daumier's masterpiece from his visits to The Courtauld Gallery, where it forms part of the Gallery's celebrated collection of 19th century French paintings.
Untitled (Crouching Figures) is one of Bacon's most important works from the early 1950s, a period when he was emerging as the leading British painter of his generation. It is one of a group of works in which nude figures are paired in sexually charged homoerotic compositions. In the post-war world of the 1950s, Bacon's revelation through his paintings of the potentially destructive potential of human desire resonated particularly strongly.
Miguel de Cervantes's great 17th century novel tells the story of the farcical Don Quixote who sets out on a series of illusory chivalrous quests, mounted on his emaciated horse Rocinante and accompanied by the witness squire Sancho Panza. Bacon scholar Martin Harrison, who first recognised the importance of Fischer's correspondence with Soby, has written of Daumier's Don Quixote: "To gaze at this great painting is comparable to experiencing a slightly scaled-down Bacon of the 1950s", pointing out how the subdued palette and loose brushwork of Daumier's painting is echoed in Bacon's work. Bacon may have also have felt an affinity for Daumier's bleak representation of the tragicomic figures from Cervantes's novel.
Categories
Tags