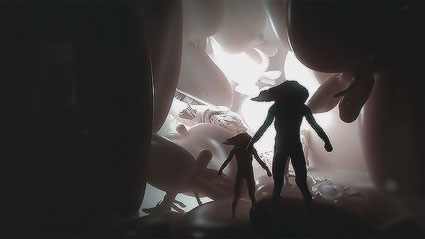 'I Am Your Simulacrum', the first solo exhibition of highly acclaimed multi- media artist, Yi Zhou. Curated by Rachael Barrett and Adam Waymouth, 'I Am Your Simulacrum' will show Yi Zhou's pioneering work in her signature medium, 3- D animation technology.
Brought up in Rome, Chinese artist Yi Zhou now lives and works between Paris and Shanghai. Following a childhood spent traversing East and West and a degree in economics and political sciences, Yi Zhou's ambitious artistic expression blends mythology, philosophy, literature, imagination and technology, which are deeply rooted in both cultures. The overbearing themes of her work are however, universal. Yi Zhou speaks of the ephemeral yet all- ‐consuming realities of love, life and death in a complex symbolic language. This language is pervaded by magical realism, a surrealist landscape and imaginary characters. Her work exists in multiple layers as real and unreal, ancient and present collide through a process of construction, deconstruction, recreation and transformation. The physical composition of her work is also multi faceted as she draws upon the varied disciplines of film, digital animation, photography, sculpture, drawing, painting and musical composition in her large multi- media installations.
Yi Zhou will show her latest film, 'The Greatness' which features music sensation Pharrell Williams, it reveals a frightening labyrinthine underworld that emerges after a pot moulded in the shape of Williams' face shatters. Containing symbolic passages, ladders, cogs, mechanisms, monstrous beasts, hellish blazes and scenes of interior organs, platelets and blood cells taken from a body scan of Pharrell, this is a nightmarish vision that rages beyond his cognitive control. The disturbing film is made even more so by award winning Italian composer, Ennio Morricone's original score. A reconstruction of the pot featured in 'The Greatness' will be included in the exhibition.
In conjunction with 'The Greatness', Yi Zhou will also present its prelude, 'The Ear' also with music by Morricone. First, we see Pharrell's ear land among the vegetables he is chopping. The viewer is then thrown into a fantastical journey, floating down white staircases, through black tunnels and onto a bridge surrounded by beautiful natural scenery. Only at the end do we land back at reality with a scene showing Pharrell reading the newspaper headline: 'The Ear Bridge in Baku, 2013.'
Other works include Yi Zhou's stunningly beautiful and ethereal film 'Paradise' and the contemplative 'My Heart Laid Bare', a film featuring award- winning French actress, Charlotte Gainsbourg. 'Paradise' will be projected onto Carrera marble while 'My Heart Laid Bare' will be projected outside the gallery in Hoxton Square during opening hours.

Image:Yi Zhou "My Hear Laid Bare" Film Still
Categories
Tags