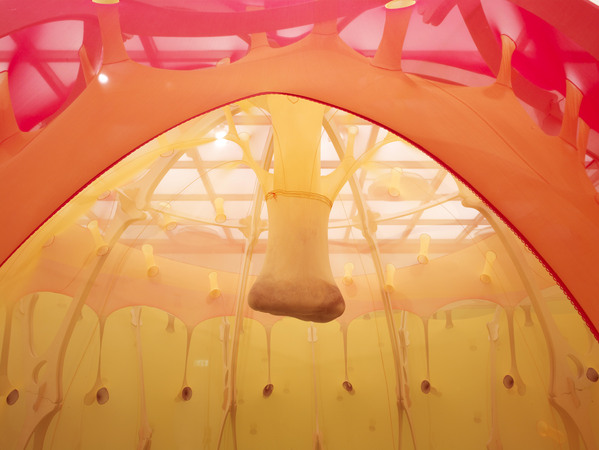 The Edges of the World is a labyrinthine installation, created specifically for the Hayward Gallery as part of Festival Brazil. Presented by Southbank Centre and HSBC, Festival Brazil is a major celebration of the arts and culture of today's Brazil, bringing together a rich and varied programme of music, visual arts, dance, literature, debates and performances across the site. Jude Kelly, Artistic Director, believes the 'artistic imagination revealed in the installations of Ernesto Neto is such a fitting way to launch the Festival'.
In agreement, Rachel Harris, Head of Participation, told me The Edges of the World is one of the main features of the festival, which encourages both families and art experts to experience and interact with the wonders of this otherworldly adult playground. Considered one of the most influential artists of his generation, Brazilian artist Ernesto Neto, has dramatically transformed the upper spaces of the Hayward Gallery with a series of site-specific installations in his most ambitious exhibition to date. Neto's work derives from his interest in
exploring ideas of tension and weight, and experimenting with materials to create sculptures- within-sculptures.
Upon entering the exhibition, a sign reads; 'Be gentle with the edges of the world'. Almost immediately my adult inhibitions are exorcised as I step foot into an otherworldly land full of things to touch, see and explore – it's playtime! Although unnecessary, I find myself stooping to avoid the low, white mesh ceilings, as if confused by this ever-morphing dimension of pastel colours and light. Above me, white nylon fabric is stretched across wooden skeletons, invoking images of a skin-like membrane, or a cloudy mist that separates reality from fantasy.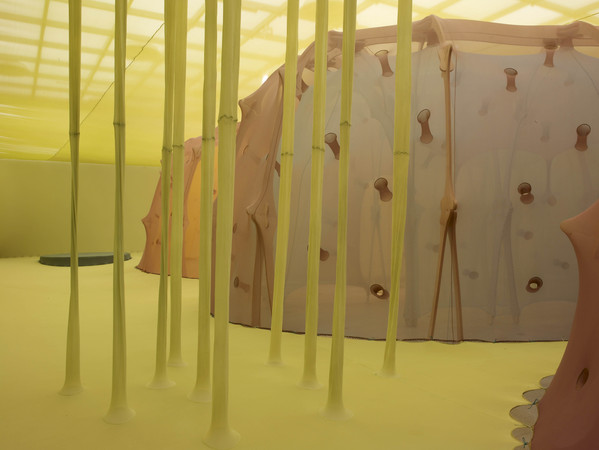 This interactive exhibition encourages one to surrender to their inner child, explore, play and have fun! A table game containing butterfly-shaped books beckons you to explore its contents by sliding your hands into the built-in soft, colourful, velvet gloves…
…A structure resembling a massive red heart or a seriously genetically-engineered
strawberry entices one to take a look inside and bang on the drum that sits in its centre. It's like something from Alice in Wonderland… and I'm Alice, expecting the Queen of Hearts to pop her head around the corner and demand my exit. Instead I'm confronted with a child. After a brief encounter with a-six-year old, I step out to explore the other parts of the exhibition (the six-year-old is victorious and I lose my spot as drummer)…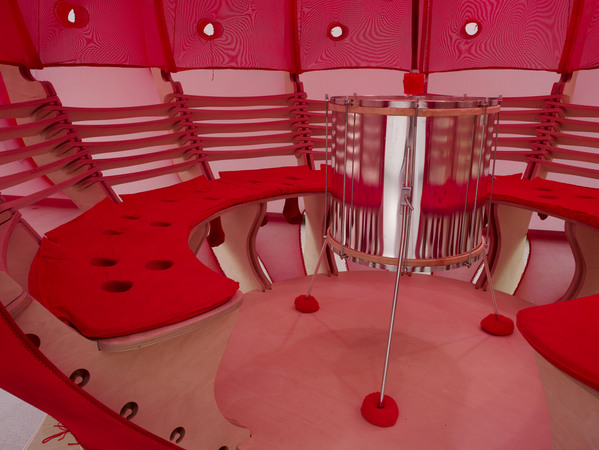 Explorers in the wonderland are invited to move freely around the space and to view the exhibition in its entirety. A hole is punched into the membrane above by a set of rickety, plywood stairs, which allows you to ascend to a higher plane, a mysterious level, where you can observe the world below. Through the translucent fabric, wraithlike figures meander below through mist and fog. Everything is quiet, serene in this strange half-world; and the land below is flooded with light and energy. A slight exaggeration to say 'an outer-body experience', but something along those lines…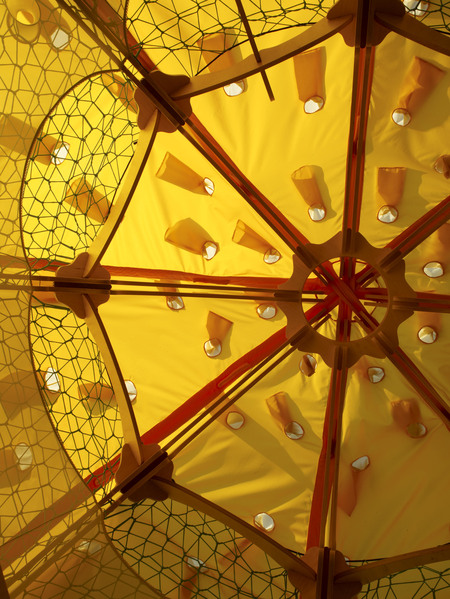 Through a series of intimate spaces and pathways, immersive and participatory environments, one is taken further into an interactive dream-land full of sensory and spatial experiences… Not to be missed!
Ernesto Neto: The Edges of The World, is at Hayward Gallery until 5 September. Tickets from £11.
Jo Sutherland
Categories
Tags