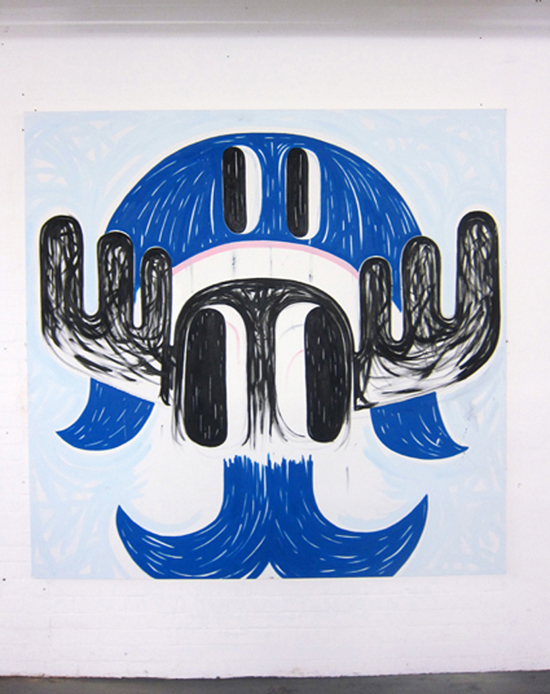 Image:Erik Bendix, "Humpback Whale and Sketchy Moose", oil paint on canvas.
Words MATTHEW MILES
On the 'wrong side' of the Olympic Park blue fence, and hemmed in by a canal and a dual carriageway, the industrial warehouses of Hackney Wick might appear low on frills but they're definitely high on art. The area is home or studio for many of London's artists and, while the media fixates on the 2012 stadium beyond the fence, the third annual Hackney Wicked festival pulled focus to their creativity.
With a combination of permanent galleries, pop-up group shows, street performance, music, theatre, stalls and open studios, Hackney Wicked was a brilliantly varied three-day event which – in the energy, optimism and improvisation stakes at least – topped the capital's more established art fairs. From DIY graffiti sessions to bands in car parks and the closing burning of the Wicker Man, there was a carnival spirit to Hackney Wicked – but it came with signs of serious intent from artists on the edge of a breakthrough.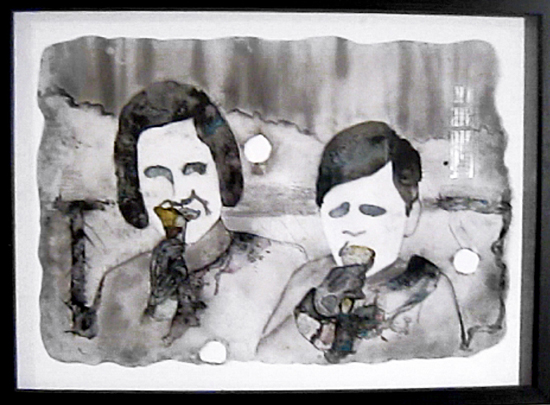 Image:Sydney Southam, ink drawing on paper
Highlights included the video vultures of Greta Alfaro and installation by Blue Curry in 'I See Myself There, Where I Am Not' at the Foreman's Smokehouse Gallery; a powerful all-round showing by The Modern Language Experiment with 'Deceit' and, also in the Blue buildings, the Gadjes collective show 'Hackney Wickipedia', curated by Sydney Southam and featuring young artists such as Alix Marie, Helene Butler, Uli Blanchet, Charlotte Kaye, Leo Cohen, Florian Valmont and Charles Garcin.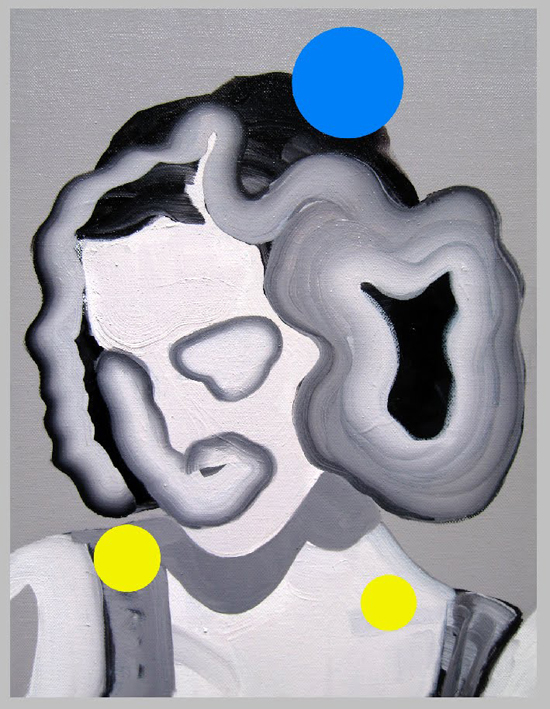 Image:Konrad Wyrebek, oil paint and silk screen-print on canvas.
Konrad Wyrebek's oil painting series 'Beauty In Petrol' was an arresting contribution to the Gadjes exhibition, which took over a giant warehouse. But for him, Hackney Wicked wasn't without its challenges. "A lot of good artists with very different approaches show their work and it's a demanding audience too, because so many of them are your peers," says Wyrebek. "The raw industrial buildings are exciting to work with, but that desolate feel vanishes as soon as it gets busy. You have to try and present in a way that will be noticed."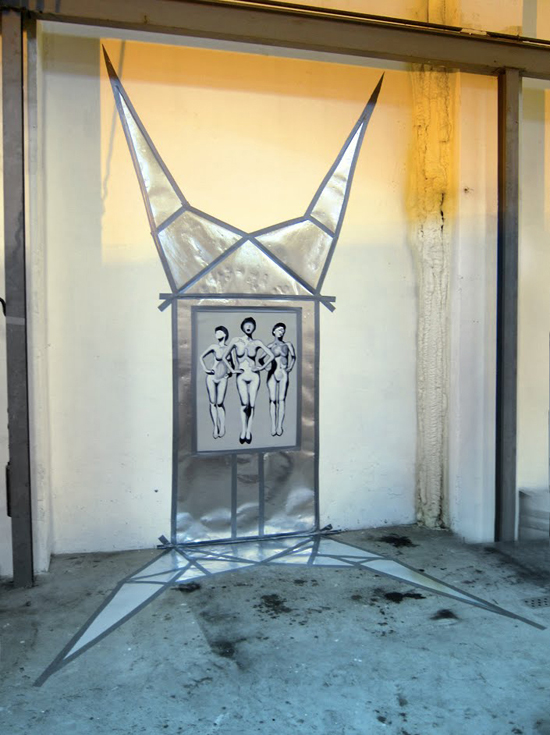 Konrad Wyrebek, "Byonce is the new black Madnnna", installation with oil paint on canvas, silver gaffer tape, cut aluminum shapes instalation with aluminium gaffer tape and oil painting

One artist taking that to extremes was Ben Woodeson, whose power-drills exploding into life with attached wires or hammers elicited screams from unsuspecting audiences at the Elevator Gallery's 'The Tomorrow People 2010'. The shocks came more subtly with Young and Fantich's razor-blade gym at 92 White Post Lane, one of the stand-out works for Hackney Wicked director Joanna Hughes. "I won't forget the ska band playing on the roof in a hurry either," says Hughes. "But for me the festival is a journey of discovery every time. We're not strict on quality control, it's about giving artists space and saying get your act together – put something on. A lot of the artists are in the early career stages so it's great experience – a chance to learn skills on the job and put on an exhibition or curate a show."

With an estimated 18,000 visitors over three days – almost double the previous year – it's also excellent exposure. And artists striving for a career boost will be encouraged by Gavin Turk's appearance in the Agile Rabbit show and the presence of Tate director Nicholas Serota on the opening evening. "It's too early to tell which other curators and gallerists visited, but every year artists pick up representation off the back of their Hackney Wicked exhibition," says Hughes.
Yet while Hackney Wicked is a platform for artists to sell and be seen, with its strong community spirit and sense of DIY spontaneity, there's also a markedly less commercial mood than some London art events. "I really want to stress the Festival part of the title," insists Hughes. "I think art and music go hand in hand, so that side of it is growing all the time. But the biggest buzz for me is that we directors don't know what's going to happen every year. I love coming across all the posters for pop-up shows and performances in people's studios."
Rough round the edges and unpredictable it may be, but with a uniquely grass (or concrete) roots ethic, Hackney Wicked is rapidly becoming the pulse-point for tomorrow's contemporary art… and the Coracle Regatta comes free too.
Matthew Miles is a London based art, culture, script and fiction writer. www.matthewmilescreative.blogspot.com
www.hackneywicked.com/
Categories
Tags