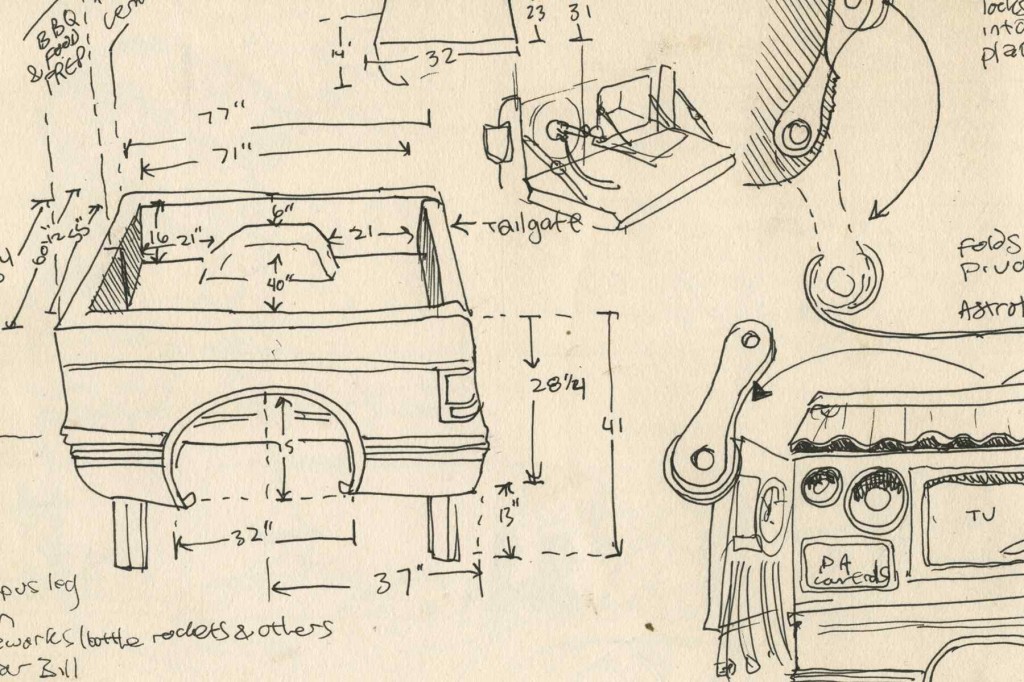 Image:Okay Mountain, Concept sketches for trailer, 2010
July 29th – September 4th, 2010.
Freight+Volume is pleased to announce Benefit Plate, a solo exhibition by Austin-based collective, Okay Mountain. With Benefit Plate, Okay Mountain examines the tradition of customization when applied to automobiles and barbecue pit trailers. Often carried out within limited means, customization aims to improve performance and functionality, while adding personalized style. The ten-artist collective explores the cross-cultural aspects of this practice with emphasis on a desire common to many customization practitioners; to outperform predecessors and push the envelope in spite of consequence and frequently at the expense of practicality.
Formed in 2006 and based in Austin, Okay Mountain is a collective consisting of ten artists who live and work in Austin, Cambridge, Chicago, and Los Angeles. All exhibit as solo artists as well. Originating as an artist-run gallery space, Okay Mountain evolved into an artist collective when its founding members began creating art together outside of the gallery environs. What began as collaborative drawing sessions during weekly staff meetings has since developed into a wide?range of collaborative projects across a variety of media, including drawing, video, sound, performance, prints, zines, murals, and large-scale sculptural installations. Okay Mountain has exhibited at Galleria Enrique Guerrero in Mexico City, Paragraph Gallery in Kansas City, PULSE in Miami, Texas State University in San Marcos, TX and the Creative Research Lab in Austin. Upcoming projects include exhibitions at Austin Museum of Art, Blaffer Art Museum in Houston, Texas and the McNay Art Museum in San Antonio, Texas. Benefit Plate is the collective's first solo exhibition in New York.
Categories
Tags