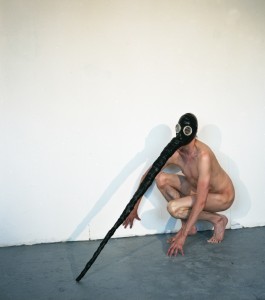 Would you agree that your work often has an artefactual quality combined with a curious recreation of the medicinal (intricate studies of insects, consistent reference to medieval medical uniform), becoming a combination of the scientific and the mythic?
I'm very interested in historical drawings of illnesses and treatments. They seem to exist between the scientific and myth making. I often combine historic and modern facts with myths about health and science. My work often blurs the line between old-fashioned concepts of health and new modern ideas.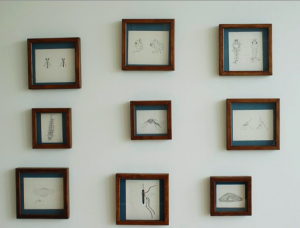 You are currently at a NKF residency Malongen in Stockholm this summer, could you tell FAD a little about the work you plan to make?
I'm researching new pieces about magnetism. I'm working with magnets and iron filling using them as some kind of organic growing form.  Together with artist Cecile Emmanuelle Borra, I am also hosting Salong Malongen , a weekly event during the residency where we are inviting local artists, dancers and writers to show a piece of work and open up a dialogue between the arts.
Your performances and sculptures often feature a character called Mosquito Man, there is a very specific reason for this name, could you explain it?
In the 90's the media released concern about mosquitoes transmitting the HIV virus and even though there were scientific proof, which showed this was highly unlikely, the media kept fabricating controversial headlines. Mr Mosquito is the anti-hero; he is the by-product of the media both as a threat but also as an eroticised image of fear. The character became more defined as I kept working and The Mosquito Man keeps evolving as a figure in my work.
Will you be telling more Mosquito Man Stories through your next piece, perhaps in the residency?
I have been doing some filming with Mr Mosquito, a project which I will continue when I get back to London. I also did a performance at Salong Malongen of Cousin Mosquito, based on a song by the congresswoman Malinda Jackson, an eccentric text promoting awareness about the transmission of malaria.
At the end of last year you did a live performance of the "Mosquito Man Opera" involving a chorus of children. How successful did you feel this was, and how was it received by the audience?
The five kids performed a Swedish song called Myggan Hubert (Hubert the Mosquito). Most school kids sing this song at around the age of 10. When I listened to the lyrics again as an adult I realised how macabre they are. They performed on the street on a cold and dark December evening in Stockholm. The kids were wearing gold gilded Dr Plague masks, it became like a festivity performance. Most of the audience were Swedish and familiar with the song, it made them revisit their past but understanding the moral implications of the lyrics. I would like to develop this idea to a longer Mosquito Opera.
How would you describe the professional experience you gained as a dancer filtering into and informing your work as an artist?
I look at the gallery as a stage and not just as a white room to hang works in. Both my experiences as a dancer and as an artist are increasingly merging, with my body frequently becoming a performative tool.
Your forthcoming group show in Barcelona sounds really interesting. Could you talk a little about the show and the particular concept of exporting a select group of London based artists to Barcelona?
It is an exhibition in a flat and therefore bringing the London concept of the domestic gallery to Barcelona. I think it's important to show internationally in order to get fresh perspectives on how the work is perceived outside familiar territory. It's really about opening up routines and about bringing new ideas to different places.
Roberto Ekholm will be exhibitng during Hackney Wicked Festival in the group show La Perruque.
OPENING FRIDAY 30th JULY 2010, 6-10 PM. The exhibition continues Sat 31st- Sun 1st August, 12-6 pm.
Categories
Tags