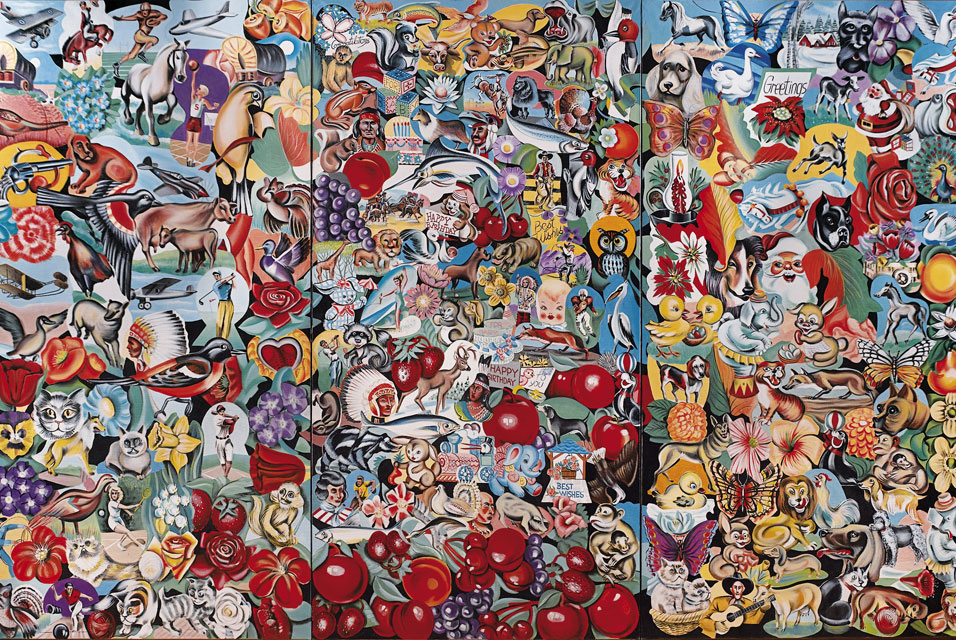 Erró (n.1932), "Baby Rockefeller", 200 x 300 cm; 78 ¾ x 118 1/8 in. Exécuté en 1962-1963. Executed in 1962-1963. Estimate:200 000–300 000 EUR. Photo: Sotheby's.
Sotheby's Contemporary Art sale in Paris on June 2/3 includes 142 lots with a total estimated value of €7.3-10m. The Evening Sale on June 2 features major works by Vieira da Silva, Erró, Jacques Villeglé, Nicolas de Staël, Pierre Soulages and Robert Indiana. The Day Sale on June 3 includes works by Serge Poliakoff, Jean Dubuffet, Georges Mathieu, Yves Klein and François-Xavier Lalanne.
Helena Vieira da Silva's exceptionally large painting L'Hiver is a brilliant impressionist composition of a city in winter. By using a varied palette of soft, cool tones of blue, green, grey, beige and white, the artist obtains through her technique a musical ode to the cold season. This work was owned for many years by the exceptional collector Baron Elie de Rothschild, and hung in his private lounge (est. €600,000-800,000).
Jacques Villeglé's Boulevard St-Martin (1959) is a true Nouveau Réaliste manifesto, even though this movement was officially born a year later. This explosive, violent work echoes Robert Rauschenberg's finest Combine Paintings, and Henri Matisse's paper cut-outs, offering a unique perspective on creativity in the late 1950s and early '60s – a much-neglected period of European art. It is without any doubt one of the finest Villeglés still in private hands (est. €150,000-200,000).
Another highlight of the sale is Erró's Baby Rockefeller (1962/3), one of the first of his famous Scapes. This important and large 2 x 3m canvas, from the Back from the U.S.A. series, was painted after Erró's first trip to New York, and bears comparison with the leading productions of American Pop Art (est. €200,000-300,000).
Sotheby's is also offering several works by François-Xavier & Claude Lalanne, coinciding with the Lalanne exhibition at the Paris Musée des Arts Décoratifs. The sale includes three important works by François-Xavier Lalanne: his Luminous Crane in gilt and patinated bronze, similar to the version from the Baron de Redé Collection sold by Sotheby's Paris in March 2005 (est. €40,000-60,000); Bird Monument, a copper weather-vane bird mounted on an obelisk of Burgundy stone (est. €80,000-120,000); and three Stone Sheeps created between 1979 and 1984 (est. €25,000-35,000 each).
As the largest retrospective ever devoted to Jean-Michel Basquiat opens at the Beyeler Foundation in Basel, Sotheby's is proud to present Joy (1984), a painting energetically mixing such Basquiat motifs as the crown, the, copyright sign and medical references around the large figure of a black man reminiscent of the young Charlie Parker. This work is typical of Basquiat's powerful assimilation of street art, jazz, television, newspapers, anatomy, Negro history and heroes, in a totally new – and never since equalled – pictorial language (est. €700,000-900,000).
Robert Indiana's Love Red is an iconic example of Pop Art, and surely the artist's best known work (est. €500,000-700,000). A greetings card he designed for the New York MoMA in 1964, served as the basis for Indian's first Love sculptures in 1966, unveiled in public at the famous Love Show in the Stable Gallery.
The Day Sale, comprising of 112 lots, features works from a private European collection, including a 1957 Serge Poliakoff Abstract Composition (est. €25,000-35,000); Jean Fautrier's 1963 painting Précisions (est. €70,000-90,000); Karel Appel's 1955 Earthbird (est. €70,000-90,000); and a rare 1964 collage by Christo, Store Front Project (est. €35,000-45,000).
One of the most eagerly awaited lots of this second session is sure to be Jean Dubuffet's Theatre Mask V dated 6 March 1969, featured on the catalogue cover (est. €40,000-60,000). The mask comes from Dubuffet's captivating Coucou Bazar series, and reflects the mischievous wit of this highly individualistic artist, who created a universal language all of his own.
Raymond Mason's 1972 sculpture View of St Mark's Place East Village N.Y.C. as seen through of the Village East Coffee Shop (est. €50,000-70,000) was inspired by his stay in New York in Autumn 1971, when he would observe passers-by from an eatery on 3rd Avenue. "I've often said I expect a work of art to speak about everything" noted Mason "And what I saw through the window of the V.E.C.S. makes me think there is an integrally sculptural way of saying it" (Raymond Mason – Pompidou Centre exhibition catalogue, 1985).
www.sothebys.com/app/ecatalogue/
Categories
Tags