Still Life with Skull, Leeks and Pitcher (Nature morte avec crâne, poireaux et pichet) 1945
Tate Liverpool is currently staging a major exhibition bringing together 150 works by Picasso from across the world – Picasso: Peace and Freedom. The show exhibits paintings, drawings, sculptures and ceramics related to war and peace from 1944-73, alongside a wide range of letters and ephemera. The exhibition also uses archive material to further explore Picasso's work in the cold war era, and how the artist transcended the ideological and aesthetic oppositions of east and west.
The centrepiece of the exhibition is undoubtedly the Charnel House (1944-45); last seen in the UK fifty years ago. This masterpiece artwork was inspired by a short documentary about a Spanish Republican family who were brutally murdered in their own home. It is Picasso's most politically explicit painting after the better known Guernica (1937). There is also a portrait of the Rosenberg's, the communist couple who were famously executed during the 1950's in the US.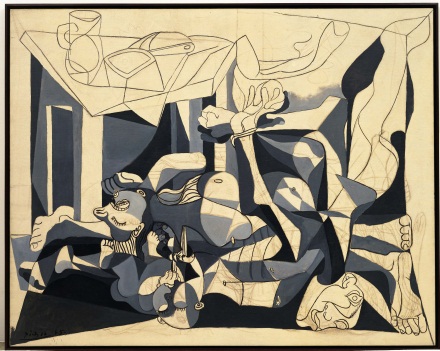 The Charnel House, Paris 1944-1945
This eye opening exhibition throws new light on Picasso's political position and its significance for his post war output, by putting key works alongside excerpts from the artist's papers held by the Picasso Archive at the Musée National Picasso in Paris. In doing so, the exhibition reveals Picasso's undeniably influential status in political matters of his lifetime.
Take his Dove of Peace for example – What originated as a simple line drawing quickly became the emblem for the Peace Movement and a universal symbol of hope during the Cold War. Furthermore, his lithograph of the fantail pigeon given to him by Matisse in 1948 was selected for the poster of the first International Peace Congress held in Paris in 1949. It is fascinating and often moving to view his works with these details in mind when so many of his works vividly reference key historical moments, chronicling human conflict and war as well as a desire for peace.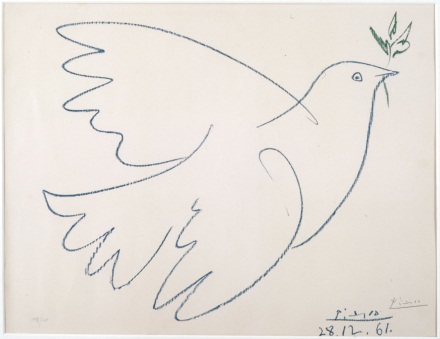 Dove with Olive Branch (Colombe au rameau d'olivier), 1961
Such emphasis on context however; inevitably raises the age old question of the relevance that politics and history should play upon a work of art. Is the work not parasitically benefiting from the heightened emotion of the causes it embraces in order to add a sense of depth? In this instance it is clear that Picasso's fame and genius has long be renowned regardless and distinct of his political motivations. This is highlighted by the very fact that so much of this exhibition offers a brand new and revolutionary way of viewing the artists work. For many, Picasso's communist beliefs were a little known element of his fascinating personality. How many people could say they knew that there was a time when our government considered Picasso a threat to the stability of Britain?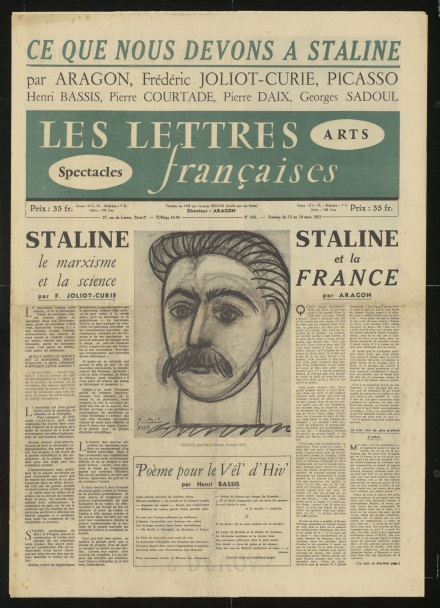 Cover of 'Les Lettres Francaises'
In fact, the exhibition reveals a whole new side to Picasso's personality, a refreshing alternative to the egotistical playboy & compulsive extrovert image better known to many. Lynda Morris, one of the exhibition co-curator revealed that in setting up the collection, she came to like Picasso more. In studying the mass of material, the endless demands on his time and energy, the simple stuff of day to day life and the art itself, she came to perceive what she describes as "an admirable man"; a man generous to the cause of his beliefs who gave himself over to the exhausting life of the artist as a moral figure. His art has far outlived the ideology that inspired it which is testament to its independent aesthetic beauty, yet in viewing the work from a political perspective, Picasso: Peace and Freedom offers an alternative insight into one of the most famous artists ever to have live,.
The exhibition is organised by Tate Liverpool in collaboration with the Albertina, Vienna and was curated by Professor Lynda Morris and Dr Christoph Grunenberg. It runs until 30 August 2010.
More Details
By Pippa  Irvine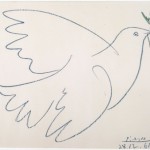 Categories
Tags