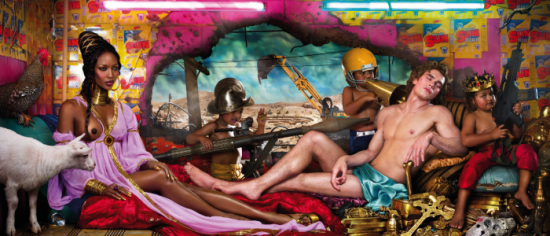 ROBILANT + VOENA

'It is through his brilliant use of beauty and fantasy that David LaChapelle somehow and irresistibly arrives at the truth. The ugly truth'. Colin Wiggins, National Gallery, London
'The latest work from David LaChapelle…is a serious artistic take on global politics', Skye Sherwin, Harper's Bazaar
'Drawing on a broad base that ranges from art history to street culture, LaChapelle's new work is turning many a stiff-necked critic's head, focusing the lens of celebrity and fashion on consumerism and cultural
hierarchies.' Anna Carnick, Dazed&Confused
The first London exhibition of David LaChapelle's extraordinary tableaux The Rape of Africa will take place at ROBILANT+VOENA this month. The gallery is pleased to be continuing its association with the artist started in 2008 to bring this exciting and unique work to London audiences.
Having consolidated his illustrious career in fashion photography, video and editorial, over the past few years LaChapelle has focused solely on his interest in fine art, producing acclaimed series such as Deluge and Jesus is My Homeboy (shown at R+V in 2008).
The Rape of Africa continues his thinly veiled critique of western consumerism by making apparent its effects on the African continent through references to conquest and plunder, child soldiers, unethical gold and diamond mining, and the commodification of African beauty. Drawing on Sandro Botticelli's iconic Venus and Mars (housed at
the National Gallery, London) for inspiration, LaChapelle subverts an apparently glitzy, bold and glamorous image to give us a very disturbing reality.
The Rape of Africa will be exhibited alongside other important works inspired variously by models from art history to contemporary celebrity, as well as preparatory drawings for the main work, demonstrating the complexity of the artist's process. Recent works such as The Birth of Venus, also inspired by Botticelli, and Fleurs du Mal, referencing Baudelaire's 'Flowers of Evil', were shot on location in Hana, Hawaii, the artist's home.
The inspiration which the artist has found in the epic glory of the natural landscape is very clear and represents a departure from his previously more 'styled' work.
The bucolic Garden of Eden landscapes sing with Arcadian simplicity and heighten the poetry of each image, creating a precious world of surprising emotional honesty. Yet at second glance we notice that cheeky little reminders of contemporary consumer society are scattered within.
This inherent dialectic reinforces our understanding of LaChapelle's preoccupation with using beauty and glamour to explore difficult or controversial subject matter, to dig deeper below the surface.
David LaChapelle's work is exhibited in museums worldwide, currently at the MOCA Taipei, and recently LACMA Los Angeles, the Monnaie de Paris, Brooklyn Museum New York, and forthcoming at the Tel Aviv Museum of Art. The catalogue Fantasy and Truth written by Colin Wiggins, The National Gallery about The Rape of Africa, will be available for sale at R+V.
About Mark Westall