Image:Konrad Wyrebek "Byonce is the new black Madnna" installation with oil painting, gaffer tape, cut aluminum shapes, salt
Blasphemy in Plato Pamplona, Barcelona, from 26 May 2010 (address below), features artists selected from across Europe working in media spanning painting, sculpture, performance, photography, installation, illustration and video. it is the first of a series of shows that will visit London, Dublin, Paris and Milan as well as Barcelona.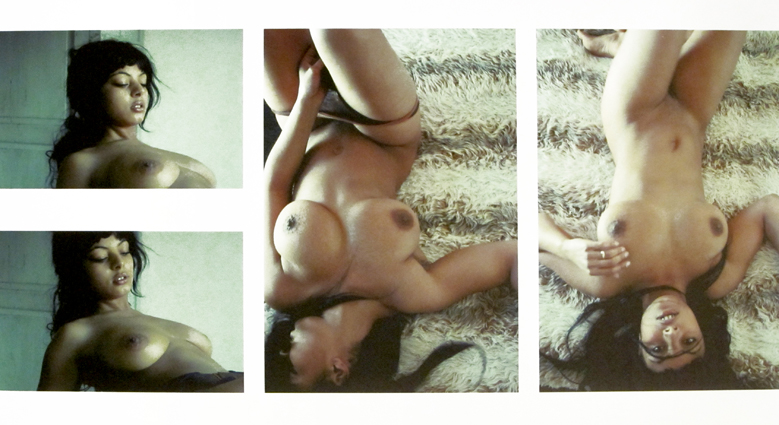 Image:Juliette Butler "Jo" photography
Transforming an industrial space in the emerging art centre of Plato Pamplona, in Barcelona, Blasphemy questions the limits and meaning of blasphemy in an increasingly secular age. Artists and audiences are encouraged to explore the idea of with whom and with what can we commit blasphemy. Issues such as culture, religion, politics, standards, sex, new technologies, wars, sacrifices and the normalisation of blasphemy are investigated in this provocative and playful show.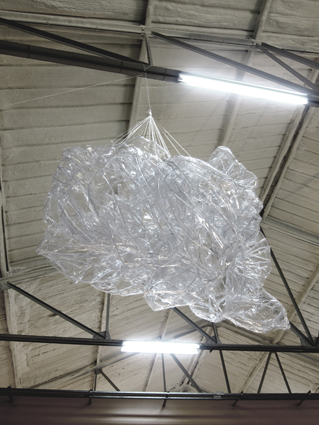 Image:Charlotte Kaye "Smitey" plastic sculpture
Featured artists include Konrad Wyrebek (paintings, drawings and installation), Matthew Miles (video, installation and digital print), Anja Priska (painting), Juliette Butler (photography) and Charlotte Kaye (sculpture).
venue: www.asgardplatos.com
Full list of Blasphemy Barcelona participating artist:s
Uli BLANCHET / collage – illustration
Helene BUTLER / video
Patrick WILEM / video
Francisco DE PAJARO / paintings – installation
Michelle BOURKE GIRGIS / paintings – installation
Leo COHEN / paintings
Eloise TADARONE / illustration
SNEZ / graffity
ADO Arte / video
Anja PRISKA / paintings
Alix MARIE / sculpture
Charlotte KAYE / installation
Ángel ROMÁN / photography
Ester COLOMINA FERNANDEZ / photography
Yamila FREI / paintings
Jose Fsc MASSE RODRIGUEZ / paintings
Gloria TAMARIT / photography
El Migue / illustration
Sydney SOUTHMAN / video
Thalia KAVAKELIS / paintings
Vj NOKAMI / performance
Alice WALTER / video Juliette BUTLER / photography
Adrian FRAGUAS DEL OLMO / photography
Fanny PEYRATOUT / illustration
Florian VALMONT / video
TRULLAS / pintura – performance
David MARTHELY / photography
Garby KW / video
El Hombre Sapo / talismans
Irene BOU / paintings
Francisco JAVIER VAZQUEZ / paintings
Louise BUTLER / performance
Matthew MILES / prints -installation
Dede DIAME / seriography
Xart Woman / video-performance
Karen BISWELL / photography
Eva BLANCHE / paintings
Leonard BUTLER / sculpture
Charles GARCIN / installation
Konrad WYREBEK / paintings – installation
Beniaxx,Amanda Beniakriou / video
Susu LAROCHE / video
Blasphemy, group art show, from 26th May 2010.
Plato PAMPLONA Barcelona.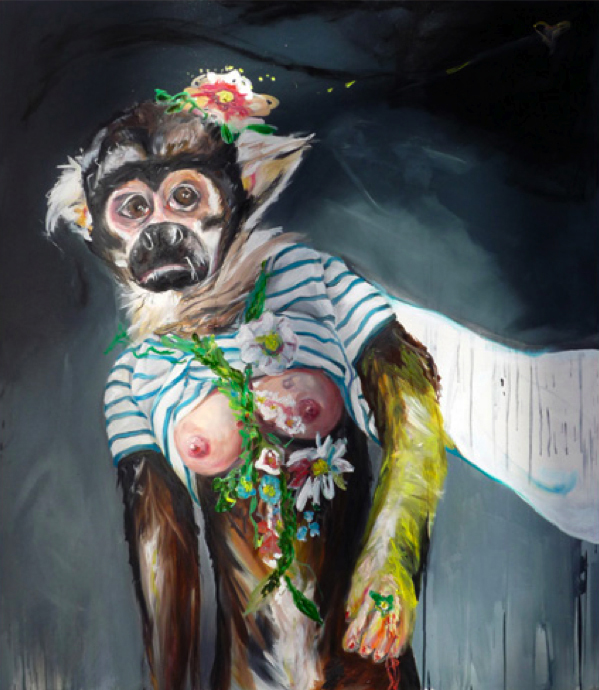 Image:Anja Pirska " Mister-Missue monkey versus parrot" oil painting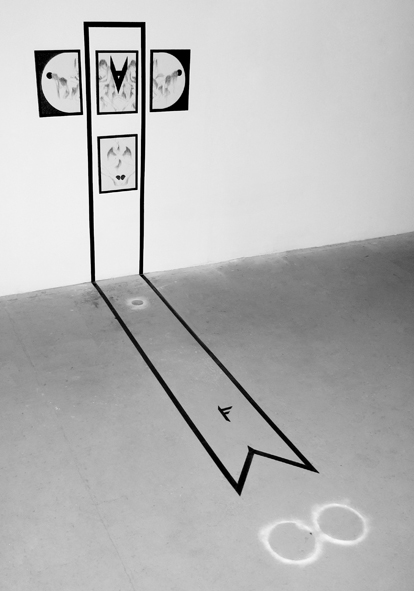 Image:Konrad Wyrebek "FuV" installation with 4 drawings, black tape, salt shapes


Image:Matthew Miles "Hold fast to that which is good" installation,black rubber, muslin, tempera, video projection
Categories
Tags