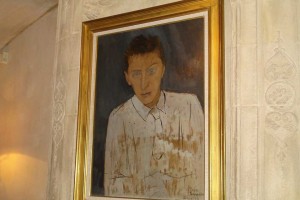 Christian Berard Portrait of Jean Bourgoint, oil on board, signed, titled and dated, 76cm x 57cm. Photo: Bonhams.
The weird and wonderful contents of the late luxury watch manufacturer Severin Wunderman's 12-bedroom chateau in the South of France, the place where he enjoyed spending time the most, are to be sold at Bonhams, Knightsbridge on 23 June 2010.
It will be the third in a series of sales of Wunderman's remarkable collection: the contents of his California and Chelsea homes achieved excellent results at Bonhams auctions in May and November 2009 fetching $500,000 and £889,902 respectively.
Head of the Furniture Department at Bonhams, Knightsbridge, Charlie Thomas, comments: "It has been a privilege to work on this sale. Every room in Chateau Montfort was like a treasure trove – a feast for the eyes. This sale is perfect for buyers who are looking for unique, one-off pieces at affordable prices."
Wunderman, the founder of Gucci timepieces and owner of Swiss luxury brand Corum, was well-known for his eclectic taste. This sale comprises 18th and 19th century furniture, sculpture, hunting trophies, glass, ceramics, and 18th and 19th century paintings, as well as more unusual items such as a pair of larger-than-life Majolica hens (estimate £800 – 1,200 each), which stood in the kitchen; a pair of early 20th century African elephant tusks mounted as a dressing mirror (£3,000 – 4,000); and a number of carved and painted fairground animals with prices ranging from £400 – 2,000.
The chateau also housed the majority of Wunderman's vast Jean Cocteau collection, which is being sold by Bonhams, Knightsbridge on 22 September
Proceeds from the sale go to the Severin Wunderman Family Foundation, a charity that supports research into incurable diseases.
Categories
Tags