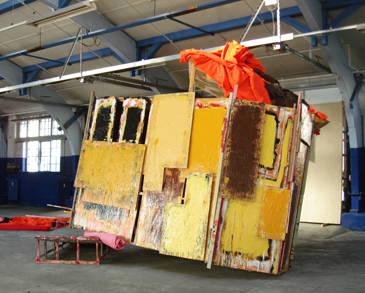 The exhibition takes place at the Serpentine Gallery from the 8th of May to 13 June 2010
The work of Berlin-based Nairy Baghramian and London-based Phyllida Barlow shares common sensibilities through its exploration of three-dimensional form, space and narrative. The exhibition will, for the first time, create a dialogue between the work of these two fascinating sculptors.
TThe sculptors Nairy Baghramian and Phyllida Barlow are shown together for the first time at the Serpentine, in an exhibition exploring two positions on sculpture in the 21st century. The exhibition will offer a new perspective on these two artists, who, though strikingly different in their approach, each examine questions related to the context in which their works are shown, while addressing the art-historical debate on the politics of form.
Nairy Baghramian is a Berlin-based artist known for her sculptural installations and photographs. Her complex work encompasses questions of context, institutional framing and the production and reception of contemporary art. Key to Baghramian's work is how theoretical concepts, drawn from art historical debates around Minimalism, literature and design history, are translated into specific decisions about materiality, manufacture and display. Well represented in Europe, this is Baghramian's first exhibition in a major public institution in the UK.
Baghramian has shown recently at Kunsthalle Baden-Baden in Germany and Kunsthalle Basel.
Phyllida Barlow is a pioneering English artist. Her sculptural installations are characterised by their large scale, often made quickly in the same place that they are to be shown and with materials that are subsequently recycled for future use. Their rough appearance conveys the urgency with which they are produced. In addition to being a practising artist since the 1960s, Barlow has had a long teaching career, tutoring students who have gone on to become distinguished artists.
Barlow has recently exhibited at Kunstmuseum Basel, Switzerland and Bergen Kunsthall, Norway.
www.serpentinegallery.org/
Frieze Magazine | Archive  | Nairy Baghramian
Guardian – Artist of the week 67 : Nairy Baghramian
Frieze Magazine | Archive | Phyllida Barlow
Guardian – Artist of the week 39 : Phyllida Barlow
Categories
Tags