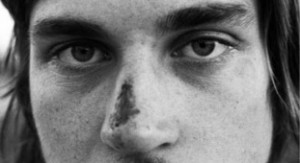 Emerica & Slam City Skates present 'Drinking The Kool-Aid' – an exhibition of photography by Ed Templeton at Elms Lesters Painting Rooms in London.
Ed Templeton (1972, Orange County, USA) is hard to pin down. At once professional skateboarder, owner of skateboard company ToyMachine,photographer, illustrator and painter, Ed's work merges these activities on a level and democratic field of subculture art. With origins in the skateboard and punk scenes, his work reflects the DIY aesthetic and endeavor of these cultures, which is furthered by having no formal training as an artist.
Templeton's use and mingling of multiple mediums (painting and / or writing on photographs, etc.) demonstrates his non-hierarchical approach, whilst his subject matter in turn reflects a non-judgmental perspective of his surroundings. With subject matter not only delving into his personal relationships, but also seeking the outside streets and the activities surrounding the skate culture, Templeton reveals a phantasmagoria of images contextualizing a broader vision of contemporary youth culture.
Ed Templeton's 'Drinking The Kool-Aid' is a personal chronicle that serves as a mirror for a broader reflection on what it means to be human. The exhibition also marks the launch of a limited edition booklet entitled of the same name by London based Mörel Books.
Drinking The Kool-Aid by Ed Templeton runs at the Elms Lesters Painting through to April 17th 2010, Mon-Sat 12pm-6pm daily. Admission Free. Private View 'Evening with Ed Templeton', 8th April 6pm-9pm by invitation
Ed Templeton will be signing books on April 10th at Elms Lester Painting Rooms, 12-2pm
Ed Templeton Video: vimeo.com/10437171
www.toymachine.com
www.slamcity.com
www.emericaskate.com
www.elmslesters.co.uk
'
Categories
Tags