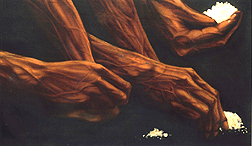 Image:Alfredo Manrique (Philippines)Karampot (Meager)c1978, oil on canvas 59.5 x 102 cm
Jointly organised by The National Art Gallery, Singapore and the National Museum of Contemporary Art, Korea, Realism in Asian Art explores the impact of Realism in the development of 20th-century Asian art.
Differing from how the Realist movement evolved in 19th century Europe, Realism in Asia applied the same concepts to a different context.  It expresses how the vast sub-continent grapples with modernity, independence and nationhood.  The powerful images produced during this period often inspired and incited action, and were even suppressed and banned at times.  Through displaying selected paintings from 10 Asian countries,Realism in Asian Art examines how this important art movement weaves together a fascinating tale of heroism, valour and hope in a time of turmoil that plagued Asia during the 20th century.
The National Art Gallery, Singapore -Official Website
National Museum of Contemporary Art, Korea -Official Website
Singapore Art Museum (SAM) -Official Website
Categories
Tags