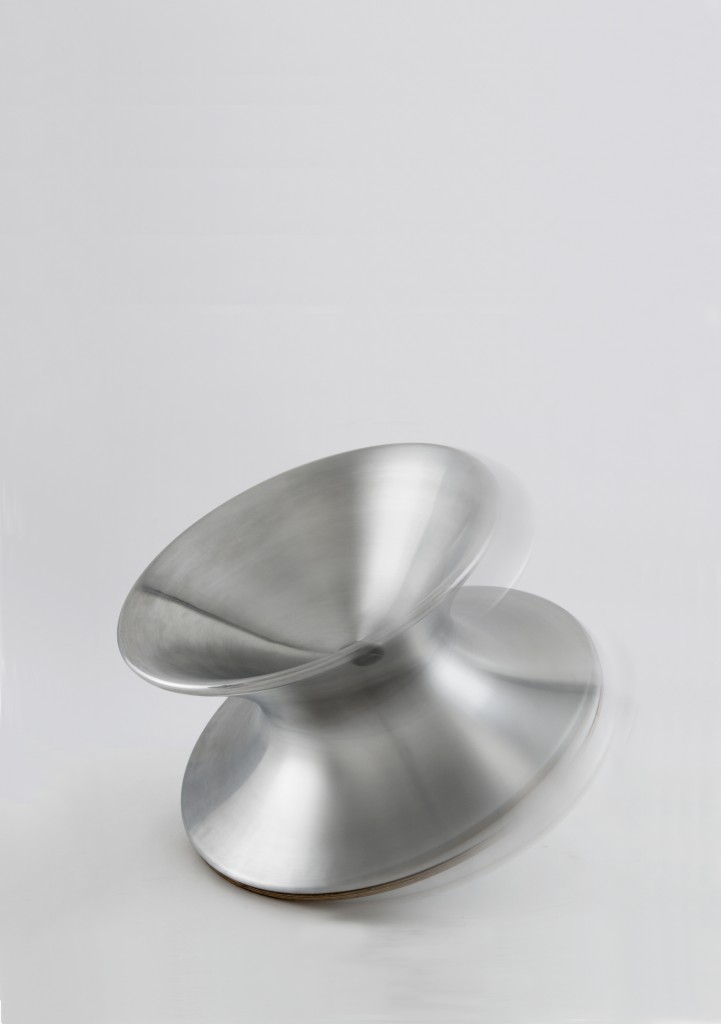 Thomas Heatherwick SPUN 31 March 2010 – 15 April 2010
For his second solo exhibition at Haunch of Venison London, Thomas Heatherwick has produced a startling twist on conventional furniture design: a functional chair formed from a single profile rotated through 360 degrees. Aptly titled 'Spun ' it transforms the domestic seat into a beautifully rendered spinning top.
The exhibition will include five versions of the Spun chair in copper and stainless steel. The different versions are: mirror polished stainless steel, brushed stainless steel, mirror polished copper, brushed copper and patinated with brushed seat copper. The peripheral edge and tip of the chair has a leather trim to prevent damage to the floor. Each chair is assembled with six spinnings of thick metal, welded together and polished to give a uniform single form. The handmade spun pieces are formed by pressing large sheets of metal against a rotating cast iron form using a large paddle.
The concept of this new design evolved from Heatherwick's love of the traditional manufacturing technique used for making large timpani drums: metal spinning is a deeply established craft skill which is rarely used within the furniture world – more typically used for producing industrial componentry such as cookware, gas cylinders and urns – the process was revised and then used to make a complete piece of metal furniture. The appeal was to create a design using rotational symmetry while asking the simple question – could a functional chair be formed from a single profile rotated through 360 degrees?
Spun displays Heatherwick's flair for challenging rules and teasingly plays with the notion of a static piece of sculpture becoming a playful piece of design. When upright Spun is a gleaming sculptural vessel and it is only when it is lent on its side that the playful possibilities of its form come to light; Spun allows the sitter to swivel in a circular rocking motion, including being able to rotate in a complete circle.
Heatherwick has successfully engaged in the spectrum of architecture, engineering and public art since achieving national and international acclaim. He has conceived a series of diverse projects from buildings, bridges to handbags and furniture, characterized by the belief that good design should be 'readable rather than impenetrable' His body of work defies definition. In completing nearly 200 projects since establishing his studio in the mid-nineties, each new commission merges engineering and design to give his projects a magical transformative feel.
Categories
Tags