Without a doubt this is one of the most enjoyable exhibitions I've seen in a while. Entering the show to be greeted by Ofili's huge canvases drenched in colour, glitter and dung is really quite baffling but undeniably uplifting. Wandering between the first few rooms, the genuine beauty of the work is totally awe inspiring.
Though seemingly simplistic from afar, Ofili's paintings are in fact incredibly intricate, multi-layered works. A close inspection of the earlier paintings reveals Ofili's ingenious use of resin to load up the canvas with layered texture, creating a three dimensional effect. Having previously been fairly unfamiliar with Ofili's work, it soon became clear that the images used to market the exhibition cannot do anywhere near adequate justice to work. Ofili must be seen to be appreciated in all it's intricate detail – I whole heartedly recommend a visit.
The exhibition introduces the work of 42 year old Chris Ofili in Chronological order, starting with a selection of his very earliest works from the mid 90's. These pieces have a strong tribal feel to them, the influence of a trip to Zimbabwae the artist made in 1992 on a British council scholarship. It was in Zimbabwae that Ofili first experimented with elephant dung, an element which quickly became distinctive of his style. Somehow the dung seems absolutely necessary to the success of the work, becoming integral to the whole balance and effect. In an interview with The New York Times in 1999 Ofili explained the dung balls are; "a way of raising the paintings up from the ground and giving them a feeling that they've come from the earth rather than simply being hung on a wall".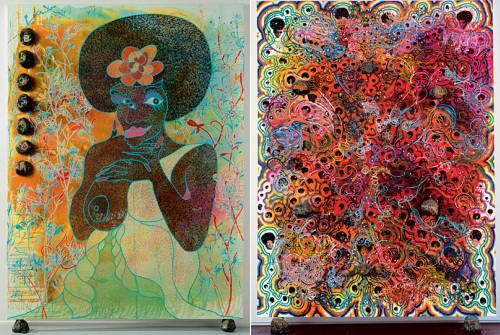 Moving on from Ofili's early pieces, the exhibition takes on a much more meditative feel as you are lead into a deliberately 'spiritual' environment. The purpose built, 'Upper Room', was designed in collaboration with architect David Adjaye; an enclosed, darkened space in which a series of paintings make up one epic work. Twelve paintings of a monkey with a chalice represent the twelve disciples, blurring the lines between Christian symbolism and imagery of other faiths such as the Hindu monkey god Hanman. The repetition of the work combined with the religious imagery and atmospheric lighting has a genuinely moving effect.
In his later paintings, the change in Ofili's style is dramatic to say the least. Stripped of colour and void of the exuberant energy oozed in his paintings from the nineties, the exhibition ends on a disappointingly sombre note. It is an interesting transgression in style and apparently a deliberate shift, set as a challenge on the artist's part.
The exhibition runs until 16th May 2010 and is an absolute must see!
Find out more at Tate.org.uk
Categories
Tags