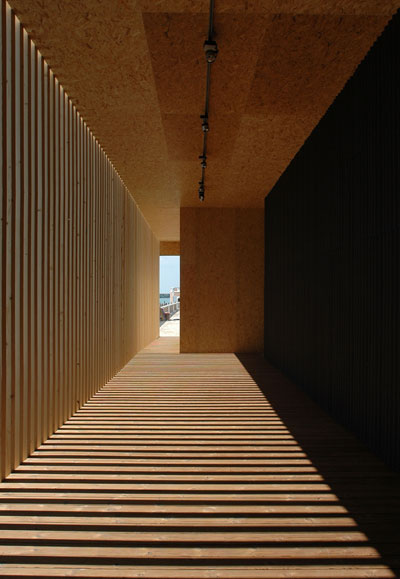 One of the leading architects of his generation, David Adjaye has stepped out of his regular line of work to photograph and document key cities in Africa as part of an ongoing project to study new patterns of urbanism. This collection of photographs is a personal quest through the eyes of an architect to address the scant knowledge of the built environment of the African continent.
David Adjaye has photographed the salient features of Africa's cities including suburban settlements, unofficial developments and townscapes. Brought together for the first time, these photographs reveal the cities themselves and examine the buildings and places which have a special resonance with Adjaye's preoccupations as an architect. The photographs will be presented as a series of vivid large-scale projections, set against a backdrop of African beats specially composed for the exhibition by Peter Adjaye. The images and music will flood the gallery creating a rich diversity of architecture, culture and urban landscape.
Often regarded as a continent defined by underdevelopment, poverty, war and tourism, through this exhibition Adjaye presents Africa in a different light. This detailed survey will reveal a unique snapshot of life in Africa today, documenting the nature of urban life in a developing country, a unique geo-cultural survey profiling the African city in a global context.
Adjaye has captured the urban development of cities including Kigali, the capital city of Rwanda showing traces of its Colonial past, Tripoli in Libya, very much invaded by the energy of the present, the informal settlements on the edges of new cities like Abuja, Nigeria and the traces of apartheid still inscribed on Pretoria, South Africa.
Born in Dar-Es-Salam, Tanzania, David Adjaye moved to London in 1979. Graduating from the Royal College of Art in 1993 Adjaye trained with David Chipperfield Architects and Eduardo Souto de Moura in Oporto. Winning the RIBA First Prize Bronze Medal in 1993 Adjaye set up his own practice, Adjaye Associates in 2000 and was nominated for a Stirling Prize in 2006 for his Whitechapel Idea Store. With a rich body of built work he has recently won the prestigious commission to design the new National Museum of African American History and Culture in Washington DC which will open in 2015.
Via Design Museum
Adjaye Associates
David Adjaye -Wikipedia
Categories
Tags