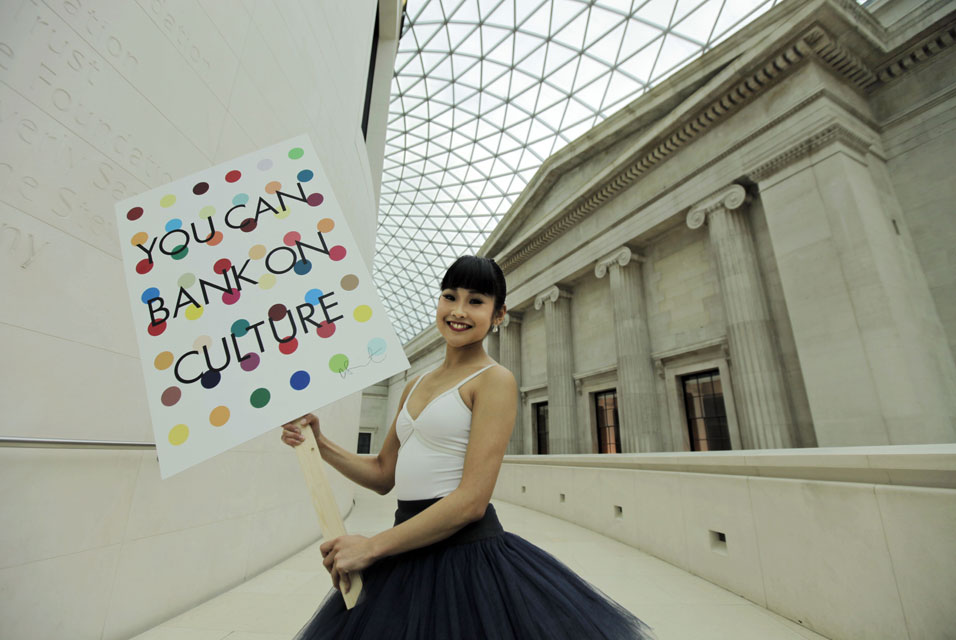 Sanako Tomiyoshi of the English National Ballet holds a Damien Hirst banner at the launch. Photograph: Lefteris Pitarakis/AP
LONDON (AP).- Britain's arts and culture sector has been a shining success amid the country's recession — and artists are pressing the government to make sure it stays that way.
With the economic recovery still fragile and an election looming, museums, theaters and galleries fear the next government will slash their funding to help battle the country's 167 billion pound ($249 billion) deficit.
Dozens of groups, including the National Theatre, the Tate galleries and the British Museum, launched a campaign for support Thursday under the slogan "You can bank on culture." They argue that investment in culture repays the economy many times over, and the arts will be vital to Britain's economic recovery.
London's theaters sold 500 million pounds in tickets in 2009, the music industry contributes 5 billion pounds a year to the economy and more than 15,000 people visit the British Museum each day, they point out.
Artists including "Bend it Like Beckham" director Gurinder Chadha, poet Andrew Motion and Turner Prize-winning potter Grayson Perry backed the campaign, waving placards — designed by artists Damien Hirst, Tracy Emin and Anish Kapoor — inside the British Museum.
The museum's director, Neil MacGregor, said the campaign aims to remind politicians "that culture works."
"Not only does culture work, it makes work," he said.
MacGregor said he wanted to see the day when politicians "don't just tell us what football team they support, but why they believe that life without (Franz) Schubert would be impossible."
In 15 years of increased investment by the current Labour government and its Conservative predecessor, new arts buildings have sprung up across the country, the number of visits to museums and historic homes has risen and British theatrical talent has won awards around the world.
The coalition of arts groups says the creative industries now account for 2 million jobs and more than 6 percent of Britain's GDP.
But the organizations fear Britain's "mixed economy" model, in which private funding is underpinned by significant government support, may be at risk.
Political parties warn there will be spending cuts no matter who wins a national election expected in May.
Delivering his annual budget on Wednesday, Treasury chief Alistair Darling said restrictions on public spending from next year would be "very tough — the toughest for decades." But he gave few details of where the ax would fall.
Arts groups fear they will be seen as an easy target compared to health or education, viewed by some as more essential.
Alan Davey, head of funding body the Arts Council, said the sector's accomplishments "shouldn't be thrown away in a fit of absentmindedness."
"Culture in England really does do amazing things — and it does so for tiny amounts of money," he said.
Tate Galleries
British Museum
National Theatre
Guardian
Categories
Tags