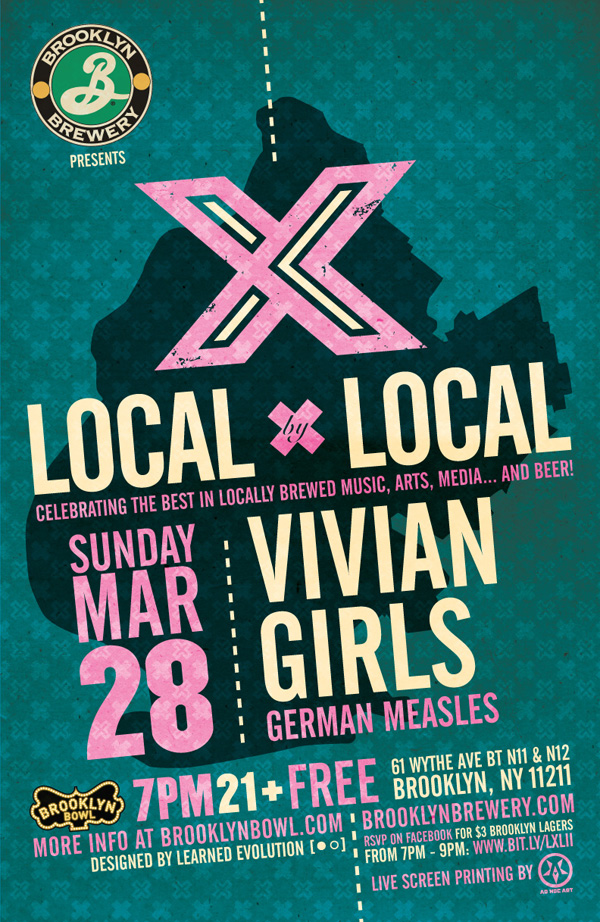 AD HOC ART is printing live at Brooklyn Bowl's "Local X Local", this Sunday immediately following the Southern Graphics print conference madness in Philly!
Sunday, 7-11pm, there will be screens on rotation along with the tunes of Vivian Girls and German Measles. Free!
That's right! While Sunday is a great day for doing laundry, brunchitos, working, & whatever you want to do, top it off with some bowling, tunes, community, and goodness.
SUNDAY, MARCH 28TH BROOKLYN BREWERY PRESENTS// LOCAL X LOCAL //
FEATURING: AD HOC ART
Visual Stimulation and Live Art on the screen printing 1's & 2's
VIVIAN GIRLS GERMAN MEASLES Tunes for your aural pleasure.
Doors 12:00pm :: Show 7:00pm :: 21+ FREE
Celebrating The Best In Locally Brewed Music, Arts, Media… And Beer! Vivian Girls drop sweet girl-group melodies into proto-shoegaze squalls the way the Jesus & Mary Chain used to and the way groups like the Aislers Set have done with female vocalists.
RSVP on Brooklyn Bowl's FACEBOOK FOR $3 BROOKLYN BREWERY BEER SPECIAL 7-9PM!
THIS MONTH'S LOCAL FOOD SPECIAL
We'll be serving Fish Tacos with Local Cod, red cabbage, pickled peppers and roasted tomato salsa, served on local tortillas made by the famous Tortilleria Mexicana los Hermanos in Bushwick.
// LOCAL LOUNGE FEATURING //
MAST BROTHERS CHOCOLATE
With New York's only bean to bar chocolate maker from Williamsburg, Mast Brothers Chocolate, serving the freshest and tastiest in the devil's food.
BLUE BOTTLE COFFEE
The neighborhood's newest coffee gurus will be selling bags of beans and giving away little cups of New Orleans iced coffee.
Categories
Tags