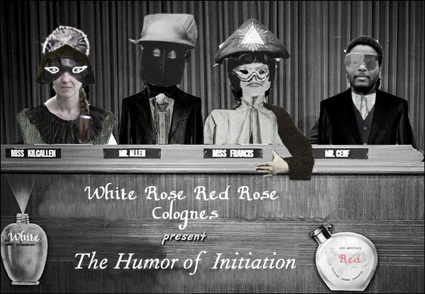 info: www.georgepolke.com
Terms are often misleading. In Chekhov's Three Sisters one character insists that a word means ;garlic,; while the other says it means ;a meat dish;; they argue at length without admitting that they mean the same thing. – Vsevolod Meyerhold, Chaplin and Chaplinism, The Tulane Drama Review, 1966
The 1950's American television game show 'What's My Line?' consisted of a host, a blindfolded panel, and a contestant. The panel would blunderingly interrogate the contestant in an effort to identity him, to the amusement of the all-seeing audience.
Filmed in the Summer of 2009, in the shadow of the US terrorism trials, The Humor of Initiation follows the framework of 'What's my line?' to concoct a surrealist guessing game. Masked characters follow a nonsense script, where meaning and identity are mislaid, and the possibility of representation is put into question.
Referencing stage production and costume, Leila Hekmat utilises textiles, installation and video to investigate notions of how identities and histories are constructed and retold. She received her BFA in Photography from Parsons School of Design in 2004 and will complete her MFA at the Milton Avery School at Bard College in New York, September 2010. Leila Hekmat lives and works in New York.
This is the third in a series of video presentations developing themes around employment and performance, including work by YVON CHABROWSKI, HENNA -RIIKKA HALONEN, RAN HUANG and TRINE LISE NEDREAAS. The Humor of Initiation will continue to the 10th April, open every Saturday 12-6pm and by appointment.
Also on Saturdays at George Polke, LUMINOUS BOOKS, an artist curated bookshop.
www.georgepolke.co.uk/
leilahekmat.com/
Categories
Tags