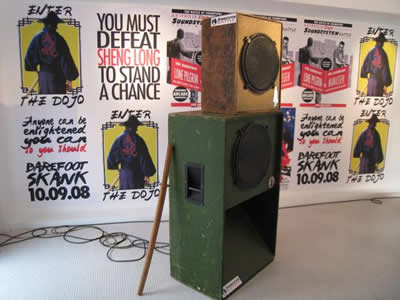 Friday 5 March 2010 Screening 11pm – midnight
"So, you're a philosopher?
Yes, I think very deeply… (repeat and scratch)"
Excerpt from My Philosophy, Boogie Down Productions, Jive/RCA 1988
For My Philosophy, David Blandy brings together a selection of his work from the past 8 years, all of which explores ways to live life in the modern world. Where do we find ideas to believe in if organised religion and philosophy no longer feel relevant, if popular culture is the only authoritative voice to which we have access? And can our relationship with a consumerist society ever be straightforward?
Blandy seeks answers to life's questions from Ben E. King, Bruce Lee, KRS-One and David Carradine. The program will include Samurai Story (2008), in which Blandy tries to live by the code of the Samurai (as outlined in Hagakure) in a Japanese garden in North of England. The piece features a soundtrack written by English Dub legend Manasseh.
David Blandy has just won The South Bank Show/The Times Breakthrough Award, presented by Sir Ian McKellan at a ceremony shown on British national television.
Artprojx at Anthology Film Archives 32, Second Avenue (at 2nd Street)New York, NY 10003
Introduced by David Gryn Tickets are FreeRSVP david@artprojx.com
+447711127848
www.artprojx.com
www.davidblandy.co.uk
www.voltashow.com
image: David Blandy's Artprojx Dojo installation shot at Artprojx Space 2008
Categories
Tags