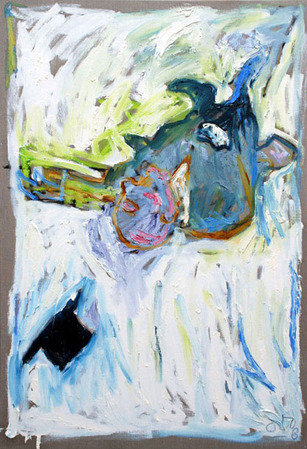 Artist, musician and writer Billy Childish is a cult figure, and one who has gained an international following, but this is the first time a public institution has brought together a major solo exhibition to encompass his extraordinary career. His prodigious range of activities can best be understood as a total work of art – one which centres on his own persona. Unknowable but Certain presents the vitality of his recent work as a culmination of over three decades' engagement across different media.
The lower gallery features a group of Childish's recent paintings, which have an unusual command and power. It includes self-portraits, often shown hill-walking; images of boats on the Medway, the estuary where he lives; still lifes with flowers, featuring pots made by the artist's mother; and paintings depicting the Swiss modernist writer Robert Walser, including works based on police photographs showing the author dead in the snow. Childish's paintings are highly expressionistic, conveying a sense of the visionary significance that he discovers in objects, places and people. They also demonstrate the deliberate rejection of the contemporary world that is a feature of all his work.
Our upper galleries present Childish's output as a musician and writer, covering a career which began in 1977 and providing a context within which the recent paintings can be understood. One room concentrates on his music, which has involved a huge range of collaborators and bands and which maintains a stubbornly independent ethos originating in the punk era. The second room features books and pamphlets containing Childish's writings, often designed and published by him and illustrated by his own woodcuts. The display includes polemical and campaigning literature, but also his more personal poetry and prose, much of which is profoundly autobiographical in nature.
The exhibition has been curated by Richard Birkett and Matthew Higgs, and is staged concurrently with an exhibition of the artist's paintings at White Columns in New York (March 5—April 17).
Via [Institute of Contemporary Arts]
Categories
Tags