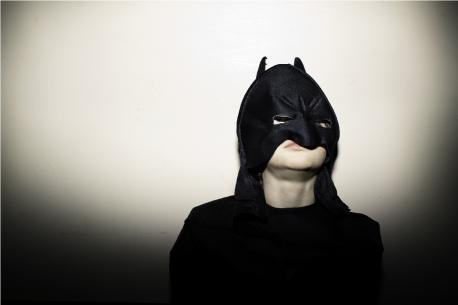 Batman Chromogenic Print 40.6 x 50.8 cms (16 x 20 inches)2008
07.01.2010 – 20.02.2010
Elinor Carucci is one of the most celebrated artists working in photography today. Carucci's fresh take on the established genre of portraiture weaves together intricate strands of the artist's own life, celebrating moments of intimacy with her extended family; her parents, her husband and most recently, with her young children. This exhibition at James Hyman Gallery brings together several photographic series never before seen in London and presents a unique opportunity to view a recent cross-section of Carucci's work before its inclusion in a major museum exhibition (Jewish Museum, Munich) and an international photography festival (Lodz, Poland) which will broaden Carucci's exposure to European audiences in 2010.
Originally from Israel, Carucci moved to New York in the mid 1990s and has been documenting elements of life in her adopted city as well as with her family in Israel. Continuing in the long lineage of artists who have taken their family into focus, from Julia Margaret Cameron, Edward Weston, Alfred Stieglitz and Harry Callahan to more recent work from Nan Goldin, Sally Mann, Larry Sultan and Tina Barney, Carucci's close range photography engages with the sometimes overwhelming fascination present in the simplest of everyday family relationships. In her highly acclaimed series Closer, Carucci's photographic gaze captured fleeting impressions of intimacy, including the trusting closeness of seeing her mother in the bath, the artist resting on the sofa with her father, or her parents reclining in bed, as well as extreme close-up physical observation of a kiss on the cheek, holding her husband's sutured hand, plucking a hair from her nipple, or even the chipped nail varnish on the artist's own toes.
Two later series of work entitled Pain and Crisis engage Carucci's intimate aesthetic along two related themes. Images in Pain include a number of self-portraits taken from a period in the artist's life when she struggled to overcome extreme back pain. This physical pain was also an unfortunate catalyst to an emotional crisis in the artist's marriage, documented with sensitivity and an element of physical withdrawal in her series Crisis.
Carucci's most recent body of work, which has just been exhibited in New York to great acclaim, includes images of the artist's intimate journey through pregnancy and motherhood. In one work, we see the artist balancing two breast-feeding twins, serenely composed and timeless. A toddler's mouth stained red with cherry juice covets a maternal kiss, while in another work, the artist's daughter Emmanuelle is having her hair cut, her concerned brow covered in snippets of fine hair. Carucci turns the camera equally on her children as she does on her own post-partum body in a tender and empathetic investigation of the intense physicality and closeness that bonds mother and children in the most delicate time of their lives.
Across all these series, frequently presenting her subjects and herself naked, Carucci's photographic palette embraces the vibrancy of flesh, illuminated by daylight and bathed in shadow; her gaze combines the seductive pull of lush detail with practiced depth of field and chromatic composition to produce work that speaks about more than her own immediate physicality. As the artists has stated, ' Ironically, the closer I got to the details, the more I zoomed in, the more universal the themes turned out to be. Moving in turned out to be moving out. Work on minute details – a mark on the skin, a stitch, a hair, an eye, a kiss – carried the work beyond the boundaries of my family.'
Elinor Carucci has had numerous exhibitions in museums and commercial galleries in North America, Europe, Israel and Russia since 1996, held a Guggenheim Fellowship in 2002 and won the coveted ICP Infinity Award for a young photographer in 2001. In 2010, Carucci's work will be included in the Family Files exhibition at the Jewish Museum in Munich, as well as the 9th Annual Photography Festival in Lodz, Poland. Academic achievements include serving on the faculty of Princeton University, the ICP and SVA in New York, and serving as a visiting lecturer at Harvard University. Institutional collections of Carucci's work include The Museum of Modern Art, NYC, The Jewish Museum, NYC, the Houston Museum of Fine Arts, The Brooklyn Museum of Arts, the International Center of Photography NYC, The Museum of Israeli Art in Ramat Gan, the Herzliya Museum of Contemporary Art, and the Haifa Museum of Art in Israel. Monographs include Closer (Chronicle Books, 2002) and Diary of a Dancer (SteidlMack, 2005) and Carucci's work has been included in a number of books including Vitamin Ph (Phaidon, 2006), Family (Phaidon, 2005), The Photograph as Contemporary Art (Thames and Hudson, 2004), and Art and Photography (Phaidon, 2003).
Categories
Tags