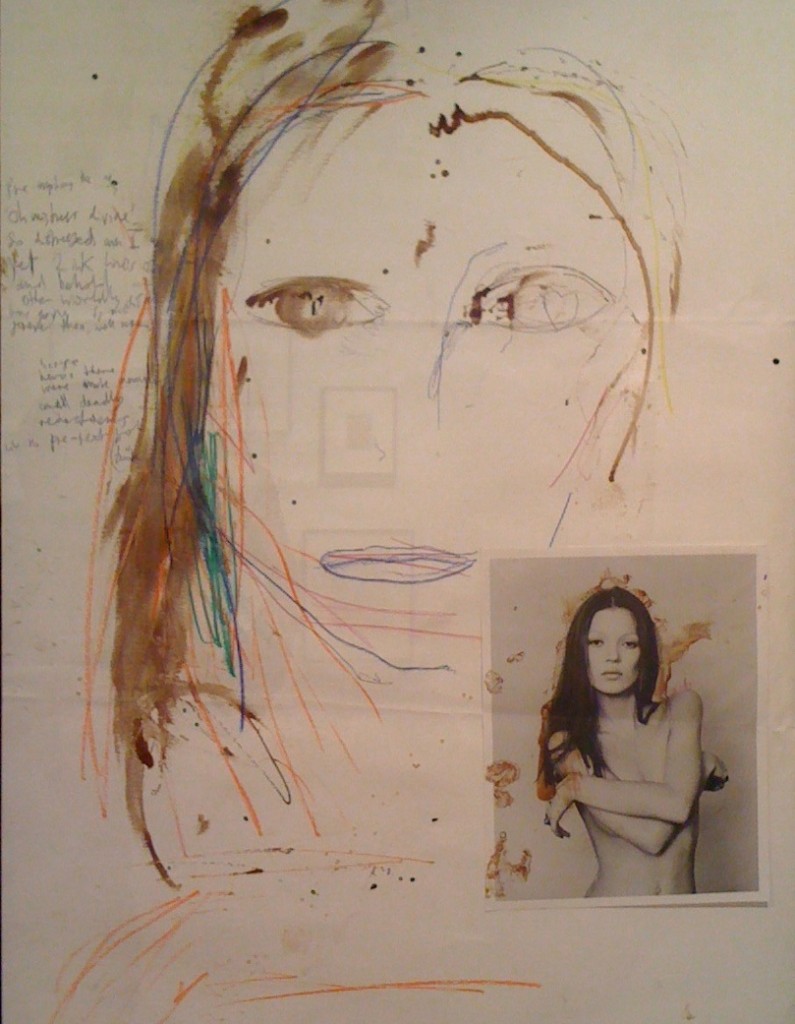 Kate Moss by Peter Doherty
Scream Gallery is delighted to unveil a stellar line-up of artists from its recently launched popular culture collection including; Dennis Hopper, Russell Young, Mark Hayward, Grace Slick, Peter Dohery, R. Crumb and Ronnie Wood. The winter exhibition features images of some of the most iconic figures from contemporary culture, such as a punk-era Vivienne Westwood photographed by William English, and Andy Warhol captured by the lens of Dennis Hopper in Andy Warhol (with flower) (1963). Legendary Hollywood Actor Hopper, is also a revered photographer, who ran with Warhol's hip Factory set in the 60's, and captured with his omnipresent camera other prominent people of the era including; James Brown, Martin Luther King and James Brown.
Internationally acclaimed British photographer Russell Young, brings more Hollywood glamour to the show with his Diamond Dust series, evoking the silkscreen prints of Warhol, by featuring legends of the silver screen such as Marilyn Monroe and Elizabeth Taylor. Young gives a contemporary twist to his larger than life silkscreen images of familiar faces from the 20th Century, by sprinkling them with a handful of stardust.
New York Curator Brandon Coburn breathes life into the Scream Gallery with this eclectic display of prints and photographs, introducing a taste of more recent icons of our culture by exhibiting two of talented young musician/ artist Peter Doherty's Blood paintings; One painting is a tender portrait of his ex-lover Kate Moss, Supermodel and darling of the British fashion scene. The image is made more poignant with the use of Doherty's own blood to create a shroud-like outline of her captivating beauty. The blood is said to lend itself perfectly to exploring the extraordinary personal and physical intensity that characterises so much of Peter's life and work as an artist in the broadest sense.
Situated in the heart of London's Mayfair, Scream Gallery is operated by Tyrone and Jamie Wood, sons of Rolling Stone's guitarist Ronnie Wood. Scream is one of Europe's leading art galleries, representing some of the finest contemporary artists and photographers. Scream's avant garde popular culture collection includes hand signed limited editions and original drawings, dating from the 1950s, through modern to contemporary work.
Other works on display are by John Lennon, Sebastian Kruger, R. Crumb, Jimi Hendrix and the afore-mentioned Ronnie Wood. Wood's portraits of his fellow Rolling Stones band mates, and other famous friends, capture the intimacy of the relationship between subject and artist. For Ronnie, music and art have always gone hand-in-hand, and the intensity that he brings to the guitar translates onto canvas and paper, with rhythmic line and vibrant colour.

www.screamlondon.com
Categories
Tags