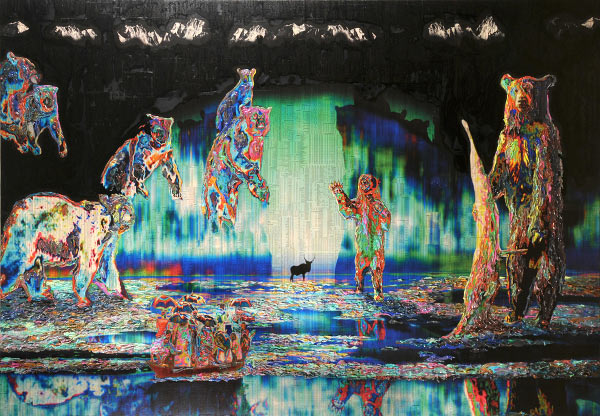 4 Dec 2009 – 31 Jan 2010 ROOM, London UK
www.roomartspace.co.uk
R O O M IS PLEASED TO PRESENT NEW WORKS BY GORDON CHEUNG
"Gordon Cheung is an artist whose work captures the mood and values of our specific historical moment. He continues a long-standing artistic tradition of imagining the end of civilisation, a form of emotional and spiritual escape valve operated since man found a means to express himself. His searing visions of a civilisation veering disastrously off course, into the abyss of spectacle and consumption, moral and intellectual bankruptcy, has never felt more relevant than at the present time, when global ideologies are shifting at a rapid rate, fanned by economic and environmental crises. Perhaps more alarming is the 'post-political' resignation which accompanies these wider developments, and the general consensus of the contemporary mass media that the return of religion has emerged as the most important factor in global politics and culture today. In his prophetic visions, underpinned by spiritual and utopian yearning, Cheung finds a compressed sign for these economic, political and spiritual crises. He is a William Blake for our times."
Text by Paul Hobson, Director of the Contemporary Art Society – Full text: www.facebook.com
In this exhibition he will present in London for the first time laser-pyrographics, paintings, animations and sculptures.
Cheung exhibits internationally and was in the largest and most ambitious survey of recent developments in art from the UK; The British Art Show 6 and The John Moores Painting 24. He was commissioned for a Laing Art Solo Award (Selected by Susan May) July 2007. 2009 solo shows included 'The Promised Land', Jack Shainman Gallery, New York, 'Art in the Age of Anxiety' Volta NYC, New York and 'The Four Horsemen of the Apocalypse', The New Art Gallery Walsall UK. Cheung's works are in international collections including the Hirshhorn Museum, Whitworth Museum, ASU Art Museum, The New Art Gallery Walsall, Hiscox Collection, Progressive Arts Collection, UBS Collection and the Gottesman Collection. He will be presenting his first US solo museum exhibition at the Arizona State University Museum in January 2010.
Gordon Cheung is of Hong Kong origin and born in London 1975 where he lives and works. Cheung graduated from the Royal College of Art, 2001.
Categories
Tags