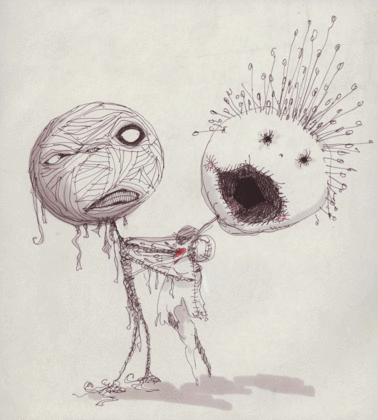 The Museum of Modern Art presents Tim Burton, a major retrospective exploring the full scale of Tim Burton's career, both as a director and concept artist for live-action and animated films, and as an artist, illustrator, photographer, and writer. On view from November 22, 2009, through April 26, 2010, the exhibition brings together over 700 examples of sketchbooks, concept art, drawings, paintings, photographs, and a selection of his amateur films, and is the Museum's most comprehensive monographic exhibition devoted to a filmmaker. An extensive film retrospective spanning Burton's 27-year career runs throughout the exhibition, along with a related series of films that influenced, inspired, and intrigued Burton as a filmmaker. Tim Burton is organized by Ron Magliozzi, Assistant Curator, and Jenny He, Curatorial Assistant, Department of Film, with Rajendra Roy, The Celeste Bartos Chief Curator of Film, The Museum of Modern Art.
The exhibition is on view throughout the Museum: the Special Exhibitions Gallery on the third floor features hundreds of drawings, paintings, sculptures, sketchbooks, and moving image works. Downstairs, in the Museum's Roy and Niuta Titus Theater Lobbies, a selection of largescale Polaroids created by Burton is joined by a selection of domestic and international film posters from his feature films, while musical compositions specifically chosen for the exhibition by Burton's longtime collaborator Danny Elfman plays over the gallery's speakers. In MoMA's Agnes Gund Garden Lobby and Abby Aldrich Rockefeller Sculpture Garden, a large-scale balloon and a deer-shaped topiary inspired by Edward Scissorhands are on view.
Mr. Magliozzi states: "While Tim Burton is known almost exclusively for his work on the screen, including Beetlejuice, Batman, Edward Scissorhands, Tim Burton's The Nightmare Before Christmas, and more recently Sweeney Todd, this exhibition covers the full range of his creative output, revealing an artist and filmmaker who shares much with his contemporaries in the post modern generation who have taken their inspiration from pop culture. In Burton's case, he was inspired by newspaper and magazine comics, cartoon animation and children's literature, toys and television, Japanese monster movies, carnival sideshows and performance art, cinema Expressionism and science-fiction films alike."
MoMA's exhibition draws extensively from the artist's personal archive, as well as from studio archives and the private collections of Burton's collaborators, and includes art from a number of early, unrealized projects. Never-before-exhibited drawings, paintings, and film props, as well as virtually unseen films—including Burton's 1983 live-action, Asian-cast adaptation of Hansel and Gretel—and early student films, are on view.
Inspired by the selection of works MoMA's curators chose for the exhibition, Burton created seven new pieces that are on display, including Balloon Boy, a 21-foot-tall, 8-footdiameter balloon appearing as a many-eyed creature that greets visitors in the Museum's Agnes Gund Garden Lobby throughout the opening weeks of the exhibition. Within the galleries a toyhouse diorama inspired by Burton's six-episode Internet series The World of Stainboy (2000) is on display. This work is joined by an animatronic Robot Boy sculpture, based on a character from Burton's 1997 children's book The Melancholy Death of Oyster Boy and Other Stories, and a revolving, multimedia, black-light carousel installation that hangs from the ceiling. Three original Burton "creature" sculptures are also on display within the gallery. These original works are joined by a precise replica of a deer-shaped topiary from Edward Scissorhands (1990), re-created for the exhibition by Atta Inc. and on display in MoMA's Abby Aldrich Rockefeller Sculpture Garden. An original animation of MoMA's logo conceived by Burton and produced by Mackinnon & Saunders, is on view in the Ronald S. and Jo Carole Lauder Lobby, and online at www.youtube.com/watch?v=kFZ3gP0pqzE.
Visitors enter the Special Exhibitions Gallery on the third floor through a spectacular three-dimensional monster's mouth. Inspired by Burton's unrealized film project Trick or Treat (1980), the entrance was created for the exhibition by TwoSeven Inc. Upon passing through the creature's mouth on its red-carpeted tongue, visitors proceed through a corridor lined floor to ceiling with Burton's signature black-and-white stripes, and a presentation of Burton's The World of Stainboy Internet series plays on six large monitors.
In the galleries the exhibition is organized in three sections, each in relation to Burbank, California, the city in which Burton was raised and the inspiration for much of his early work.
SURVIVING BURBANK
The introductory section of the Special Exhibitions Gallery consists of a grand salon-style installation of Burton character and creature studies on paper and canvas from the 1980s and 1990s, which serve to demonstrate the outpouring of creative energy and invention he was experiencing as a young artist at the time. Next, ephemera, school projects, and early drawings from Burton's youth in Burbank are displayed in vitrine cases and wall mounts, including a city trash truck sign Crush Litter (c. 1973) that serves as a memento of his first professional award as an artist. These works are exhibited as a reflection of Burton's feelings of adolescent alienation from small-town life, and illustrate how he turned to the strength of his imagination as consolation. Also included is a children's book written and fully illustrated by Burton as a teenager, The Giant Zlig (1976), alongside items that chronicle a youth spent compiling lists of fantastic films, organizing film series, and making short action films. These items reflect Burton's burgeoning interest in classic American horror movies, 1950s science fiction, and Japanese monster culture, all of which offered relief from the boredom of his Burbank childhood.
Burton's Super 8mm films from the 1970s, shot in neighborhood backyards and starring childhood friends, are on view, including The Island of Dr. Agor (1971) and Houdini: The Untold Story (1971). Also featured is Stalk of the Celery Monster (1979), an animated short that Burton submitted as his graduation project at the California Institute of the Arts (CalArts). A sketchbook illustration brought to life, the film reveals Burton's early taste for merging the gothic with the everyday. Other late amateur films on view include excerpts from the 16mm shorts Luau (1980) and Doctor of Doom (1980), which feature a young Tim Burton in starring roles. Created in a spirit of fun, these films satirize foreign-language horror movies and beach party films while toying with traditional animation technique. The works also display a number of themes and visual motifs that resurface in Burton's later professional films.
BEAUTIFYING BURBANK
Burton's talent matured during two years of study at CalArts and four years working as an animator at The Walt Disney Studios. Sketchbooks, cartoons, drawings, and examples of his first professional work at Disney reveal the emergence of a number of Burton's signature motifs and stylistic traits, including creature-based notions of character, motifs of masking and body modification, ongoing themes of adolescent and adult interaction, and elements of sentiment, cynicism, and humor. Several of Burton's CalArts sketchbooks are on display, supplemented by a digital slideshow sampling select pages and highlights from his classroom exercises and notes.
Among the most substantial output from this period is a series of over 50 cartoons Burton drew in pencil on animation registration paper between 1980 and 1986, which largely served as a diversion for the apprentice artist from his routine animation work at Disney. These drawings reveal Burton's pent-up creative energy, youthful cynicism, and a taste for puns and sight gags.
As early as high school, Burton began developing ideas in drawings and verse for books, films, and art projects. Later, as a concept artist at Disney in the 1980s and in personal collaboration with Rick Heinrichs, he created a number of projects that were left unproduced and unpublished. On display are pen-and-ink drawings from unrealized projects such as Trick or Treat, Romeo and Juliet (1980-84), and Little Dead Riding Hood (1981). These, along with Burton's character studies and cartoons, have remained an imaginative resource of wit and invention for the filmmaker.
Additional moving image works on display include Burton's little-known adaptation of Hansel and Gretel, a work which was commissioned by The Walt Disney Company and broadcast only once in October 1983 on Disney's newly launched cable channel. Vincent Price, Burton's childhood idol who would later narrate Vincent (1982) and play a key role in Edward Scissorhands, hosted the program. Working with early collaborators Heinrichs, Stephen Chiodo, and Joe Ranft, Burton created over 500 pieces of concept and storyboard art, designed toys for the film, and even hand-drew parts of the set for this virtually handcrafted production. Selections from the related concept art and a handmade prop from Hansel and Gretel are also on display.
BEYOND BURBANK
Burton's professional career blossomed with the success of Pee-wee's Big Adventure (1985), Beetlejuice (1988), Batman (1989), and Edward Scissorhands (1990). By the time his sixth feature was released, Tim Burton's Nightmare Before Christmas (1993), which he developed and produced, his name was listed above the title. In this phase of his creative life, a number of rewarding professional collaborations, including those with costume designer Colleen Atwood, special effects master Stan Winston, stop-motion puppet craftsmen Ian Mackinnon and Peter Saunders, and the character design studio of Carlos Grangel served to bring his vision to the screen. The exhibition contains significant examples of their work, supplemented by important studio loans from the Disney, Warner Bros., and Twentieth Century Fox archives. Among them are props such as the sinister life-sized animatronic puppets from Charlie and the Chocolate Factory (2005), the Sandworm jaws from Beetlejuice (1988), and original puppets and concept art from Tim Burton's The Nightmare Before Christmas and Tim Burton's Corpse Bride (2005). These works are joined by costumes from Edward Scissorhands, Batman Returns, and Sleepy Hollow, including the original Catwoman suit and the original Edward Scissorhands costume; props include the Penguin's baby carriage from Batman Returns and severed-heads from Mars Attacks!.
Burton's graphic art and texts for non-film projects like The Melancholy Death of Oyster Boy and Other Stories (1997) and his hand-painted models for the collectible series Tim Burton's Tragic Toys for Girls and Boys (2003) round off the exhibition's survey of the artist's creative work in this period. As curator Ron Magliozzi states, "These works further establish Burton's kinship with a generation of contemporary artists—many from Southern California like Burton himself— who have taken inspiration from the surrealism and 'lowbrow' charm of Pop Culture in the second half of the twentieth century."
Burton's 2006 music video Bones for The Killers is also on view, along with his commercial work for advertisers Timex and Hollywood Gum, featured in the three spots Gnome (1998), Kung Fu (2000), and Mannequin (2000). These are joined by an excerpt from the stopmotion tests Burton made in the early phases of production for his 1996 film Mars Attacks!. Although plans to employ stop-motion were abandoned for the film, the digital methods ultimately used to animate the Martian's movements deliberately mimicked the less-polished effect of stopmotion.
MoMA's Roy and Niuta Titus Theater 1 Lobby Gallery has been transformed into a photo gallery with the display of 29 large-scale Polaroids, each approximately 33 inches by 22 inches, created by Burton between 1992 and 1999, along with a curio case of strange objects used in production of the Polaroids. In these works, Burton found another medium for expressing visual themes and motifs that also appear in his sketchbooks, drawings, and paintings. Created in studios and on desert and countryside locations with the aid of live models, the Polaroids employ fantastic objects created for photo shoots and puppets and props from Tim Burton's The Nightmare Before Christmas, while exploring Burton's fascination with holidays, body modification, and the Gothic. The installation is accompanied by musical compositions by Danny Elfman that play over the gallery's speakers. Additionally, a selection of domestic and international posters from Burton's films are on view in the theater lobby galleries.
The Museum of Modern Art | Tim Burton | Ron Magliozzi | Jenny He | Rajendra Roy |
Categories
Tags