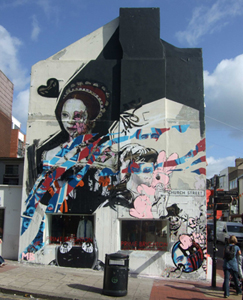 artrepublic are launching a national, art competition entitled "Street Art? working in association with "StreetSmart? – the charity which was set up in 1998 to support a wide range of homeless organisations.
The competition criteria is simple – artrepublic are searching the nation for an artist to create an original "Street Art? image that makes a positive contribution to the urban environment and raises awareness of the homeless situation in the UK.
The winner (chosen by professional artists and include Pure Evil) will see their artwork transformed into a huge installation (the size of a three-storey building) appearing on the streets of London and Brighton. Plus the winning image will be sold as a limited edition print through the artrepublic galleries in London and Brighton and online at www.artrepublic.com, with proceeds going to StreetSmart.
The competition is open to anyone regardless of experience so not only will it help the charity, it may also unearth and help to support new talent which would be seen by people from all backgrounds. The competition coincides with this years drive for support of the homeless by StreetSmart and their restaurant partners during the festive season.
Lawrence Alkin – CEO artrepublic –
comments: "Street art is experienced by everyone and therefore creates a bond between those who live on the streets and those who have a roof over their heads. This is a unique opportunity for an aspiring or established artist to express themselves, with the winner?s message being exposed to the world. This is not about despair but continued hope and we want this competition to benefit StreetSmart and unveil some great new talent."
An official launch party is being held at The Ivy Club on Thursday 26th November where established artists will be donating work for auction to raise further funds.
Artists are required to email their "Street Art? image to artwork@artrepublic.com, with "Street Art Competition? in the subject line.
All the latest entries can be followed via the artrepublic Flickr Photostream at http://www.flickr.com/photos/artrepublic.
Deadline for entries is Friday 8th January 2010 with the winner being presented to (venue to be confirmed) on Thursday 28th January 2010.
Full details of the Street Art campaign and its supporters are available at www.artrepublic.com
The winner will also receive dinner for two at PINCHITOtapas WC1 and an overnight stay at myhotel Bloomsbury.
www.pinchito.co.uk/
www.myhotels.co.uk
In London alone the annual returns, compiled by the charity Broadway on behalf of the government, showed that 4,672 rough sleepers were counted in the capital, up from 4,077 last year.
StreetSmart was set up by two ethically-minded London business people, William Sieghart, Chairman of StreetSmart, Founder of Forward Publishing and Mary-Lou Sturridge, Former Director of The Groucho Club, Hotelier.
www.streetsmart.org.uk
Categories
Tags