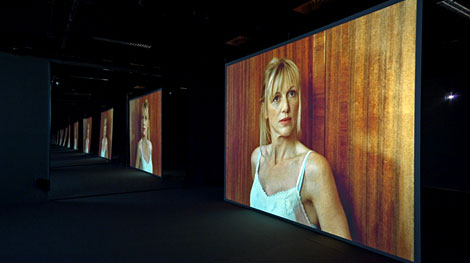 Jane & Louise Wilson's Unfolding of the Aryan Papers earlier this year.
The BFI Gallery, opened just over two years ago, has established itself as a leading platform for artists' film and video; expanding audiences and devoting attention to some of contemporary art's most exciting work. Head of Exhibitions Elisabetta Fabrizi discusses the fast evolving environment in the intersection between the gallery and the cinema.
What key changes have occurred since the gallery first opened in 2007?
When the gallery was new I didn't want to alienate audiences, but to offer a way in for a wider audience. A lot of my projects are quite aesthetic, with an understanding of the artists' use of a medium, a medium that requires a certain level of skill. I try to do projects that are as interesting to the art world as to the film world.
Now the gallery is more established quite a few of our projects will go on to other galleries and more artists are approaching us, interested in being involved. This is quite an achievement in such a short space of time for a small gallery. I will continue to do a programme that initiates other activities. I aim to extend the boundaries to performance and I have already introduced objects into the gallery space, which I will do more of if the opportunity arises. We can now push the gallery's limits a little further.
The Jane & Louise Wilson's show was organised to coincide with Kubrick events and a retrospective. Quite a few artists are willing to step into feature film as well; Shirin Neshat just won a prize in Venice. Sam Taylor Wood's Nowhere Boy is closing night of the current London Film Festival, and Jane & Louise have just finished making their first narrative short film, not to mention Hunger by Steve McQueen. It is a very interesting time for artists working with the moving-image.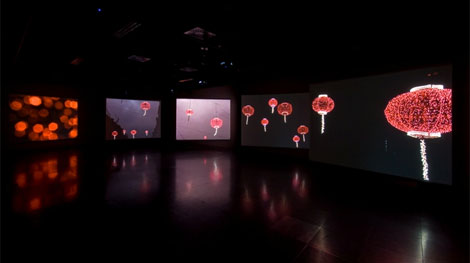 Susan Pui San Lok: Faster, Higher Exhibition at BFI Gallery 2008
There is still a division between what audiences expect from the cinema and from the gallery. Do you feel the BFI Gallery sets a standard for a breaking down of the boundaries?
The moment that the BFI opened a gallery for this particular type of work it represented a step towards the normalisation of moving image in a gallery context. The BFI Gallery aims to reposition the moving image in a Gallery context as part of the history of film and not just of the visual arts; it also aims to show to film audiences what happens when the moving image, and film, exit the auditorium and enter the Gallery space.
It will take a generation. In ten years time it will be interesting to see what else is available. The Danish Cinematheque is looking into introducing a gallery space. ACMI in Melbourne are also going to open a project space like the BFI's. Since this gallery is doing well other institutes are interested in having their own. In another ten years time will a lot of young people will have experienced it and used it as a resource. People will study this subject, many more people are already doing work in and around this very rich and inspiring area. The BfI's plans for a Film centre are very interesting in this sense as the Gallery will be bigger and situated in a state of the art building dedicated to the moving image in all its contemporary richness.
It is impressive how you have managed to totally reinvent the space for each exhibition…
That is a really important thing for me. I am not interested in doing a straightforward projection in the gallery when the BFI already has one of the best cinemas in London. When we did the Mark Lewis exhibition we had a wall in the middle of the gallery, forcing the audience to move around the exhibition. Without the obstruction people may have not experienced more than one viewpoint. I want it to feel different each time, even down to the colour of the corridor. Offering something different in the installation encourages our film audience to engage with the work, more than they would with a standard installation. That is why I encourage artists to think quite sculpturally about the space. With Iain Forsyth & Jane Pollard for example we did a 3D show that was successful, the space looked massive, because of the 3D glasses the gallery space became the room shown in the film.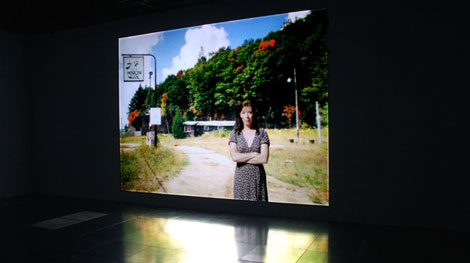 Mark Lewis Rear Projection: Molly Parker (2006), Exhibition at BFI Gallery  2007
It takes time for a space like this to be recognised as a reference point, or even an aspiration point…
We now have a lot of artists crossing over successfully, there are various schemes provided to support them. It has been a long time coming because there have been artists working in this intersection, not just since the 1980's, but throughout the century. The technology is there and the art world is powerful enough to accommodate this change.
Current Exhibition: Deimantas Narkevicius until 29 November
Forthcoming Exhibition: Peter Campus 11 December – 14 February
Categories
Tags