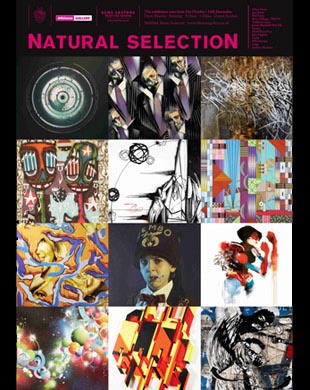 31 October – 12 December 2009 Monday – Saturday 9.30am – 5.00pm
Elms Lesters is to curate an exhibition at the acclaimed Atkinson Gallery at Millfield School, Street, Somerset.
The Atkinson Gallery's mandate is to promote and support young, aspiring artists, but also bring art of an international calibre to the South West Region of the UK.
Located in the grounds of the prestigious Millfield School it has hosted a number of museum quality exhibitions featuring the work of luminaries such as Mark Quinn, Andy Warhol, Gillian Ayres, Bert Irvin, Sir Anthony Caro and Lynn Chadwick.
'NATURAL SELECTION' will be a non selling exhibition including works by Adam Neate, Jose Parla, Phil Frost, Boris Tellegen (DELTA), Anthony Lister, James Marshall (DALEK), Futura, Mark Dean Veca, Ron English, Stash, WK Interact, Snug and Andrew McAttee.
A beautiful 48 page soft cover limited edition catalogue, compiled by Fiona McKinnon and designed by Iain Cadby of World's Design, is being produced to accompany the exhibition and will be for sale at the Atkinson Gallery, along with a selection of Elms Lesters' renowned publications.
The exhibition opens on Saturday 31st October, but there will be a private reception between 7 – 9pm on Monday 2nd November.
Exhibition continues until 12th December 2009
Categories
Tags