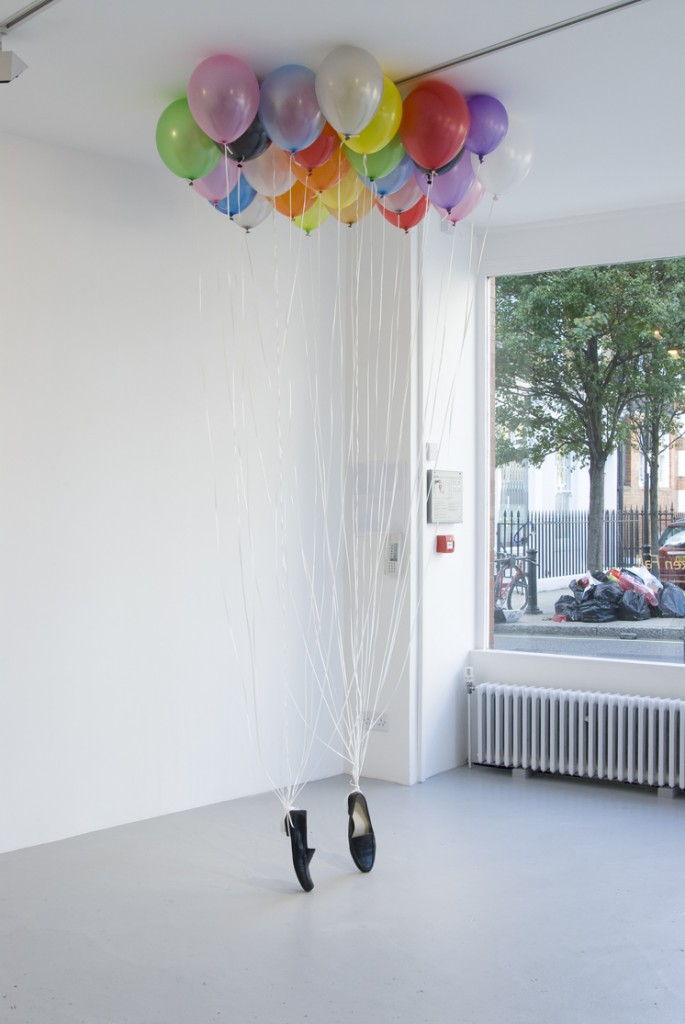 Image:Appau Junior Boayke-Yiadom P.Y.T 2009 Balloons, string, penny loafers Dimensions Variable
Appau Junior Boakye-Yiadom ,Benedetto Pietromarchi ,Conrad Shawcross ,Daniel Wallis.
This first sculpture exhibition in Josh Lilley's programme, aims to present a platform for four distinctive practices taking place in London in late 2009, providing individual experiences and responses within the various spaces the gallery allows.
The exhibition – whose title is a variation on Bas Jan Ader's 'Falls' series from the early 1970's – will also highlight common aspects in the artists' practice on notions of the idealistic and the irrational, elements of odyssey, noble failure and endeavour, while at the same time vividly expressing a sense of enjoyment in the construction of things and the manipulation of certain objects into often redundant yet aesthetically beautiful forms. Drawing, video, and small-scale sculptures will also be present, acting as revealing insights into the development of these willfully optimistic artworks, whose attitude, energy, spirit, vulnerability, and sense of potential failure, all find links to certain sentiments in Ader's production nearly forty years ago.
Appau Junior Boakye-Yiadom takes the readymade as his starting point, setting up situations of everyday objects that are then activated during a brief performance. Interested in the transformation of object into absurd sculpture, Boakye-Yiadom uses paint, liquids or plaster to enact the event – the action's aftermath as well as the photographic or filmed record of it, all then becoming part of the work itself. By recording a visual archive of the creation of the piece, his video documentation also provides an exposé into the vulnerability and banality within an artist's practice.
Benedetto Pietromarchi's sculptures are primarily influenced by notions of displacement, voyage and travel. Working across a variety of materials including terracotta, lead, stainless steel and wood, Pietromarchi creates fantastical mechanisms and modes of transport, where the tension in materiality allow his playfully surreal objects to become monumental as they morph into redundant yet formally powerful structures.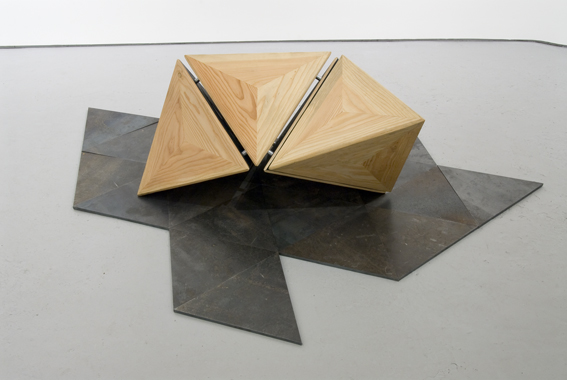 Conrad Shawcross Untitled, 2009 Stainless steel, wood 225 x 165 x 53 cm
Conrad Shawcross' sculptures are imbued with an appearance of scientific rationality yet explore subjects that lie on the borders of geometry and philosophy, physics and metaphysics. Attracted by failed quests for knowledge in the past, he often appropriates redundant theories and methodologies to create ambitious structural and mechanical montages, using a wide variety of materials and media.
Daniel Wallis' practice is a playful one of meandering, manipulated, and poetically simple incidents. When creating a body of work he tends to find a system of organising and making things, and then allows it to evolve naturally, often being humorously disrupted by mischievous and animated constructions. Notions of weight, balance, replication, and implied function help to dictate the work's development, but can seemingly become superfluous to the work's ultimate installation.
Categories
Tags