image: Eric Doeringer Bootleg Series (Julian Opie) 2005, ink on canvas, 8x10in (20x25cm).jpg ©Eric Doeringer
image courtesy of {CTS} creativethriftshop
A common misconception is that art fairs are for everyone. They're not. Art fairs are some of the most elaborate and glorious bazaars the world knows today and the emphasis is on selling, not showing. Booths aren't curated exhibitions, they're displays packed to the gills with stuff. If you're not a collector, they're also a reasonably cheap and fantastic way to see what's out there today. For a long time, FIAC has been the thermometer for contemporary art in Paris, a nearly cultural event for locals and internationals to experience "art today."
But FIAC is an art fair, and isn't as much a showing of "art today" as it is art that is being sold today by galleries willing to shell out 30,000 euros for a booth. If you're not there to round out your Christian Boltanski collection, it's nothing more than a mishmash of established wealthy galleries.
Art fairs the world over offer a pretty consistent mix of wares (Sophie Calle, Bridget Riley, Damien Hirst, Alex Katz etc. ). There are surprises to be sure, and regional favorites that benefit from a cultural consideration from the fair hosts, but what it boils down to is a pretty standard spread.
So what's the difference? Why come to Paris if you've already been to Basel, NYC or London? Come because you're a collector, or come because of SLICK. Putting the blue chip upper echelon of people aside, SLICK is the most relevant art fair in Paris hands down. At the opening on Thursday, a genuine rush of excitement hit the 104 building as crowds of people streamed in. Lynn del Sol of Creative Thrift Shop and Ego Gallery said that she had never seen so many people at an opening for an emerging art fair ever.
SLICK is young, it's cutting edge, it's affordable, but mostly, it's friendly and welcoming. The fair organizers have come up with a truly winning formula, one that is trampling Arts Elysées and ShowOff into inconsequentiality. For starters, the 104 building which SLICK is held at is a sight unto itself; modern, spacious and hip and a fantastic space to show art, especially on the ground floor. There is no long queue to enter the building because the actual art fair entry is inside the building. The galleries enjoy ample booth space, and even at the most crowded, walking from booth to booth isn't an issue.
There's always a great showing of local galleries, but this year marks perhaps a step forward for SLICK with established venues like Galerie Polaris moving from FIAC to SLICK. Owner Bernard Utudjian was incensed when FIAC asked him to reconsider the selected artists he was going to display at the FIAC booth this year. "I have shown at FIAC for fourteen years, but this year I said, 'I will not pay you 30,000 euros so that you can pick which artists I show, and so I came to SLICK."
Money is also not the only issue for Utudjian, "it's easy to talk to people here, they want to know more about the artists that have caught their eye. All these fairs and biennales make it hard sometimes to connect with people and learn about what interests them."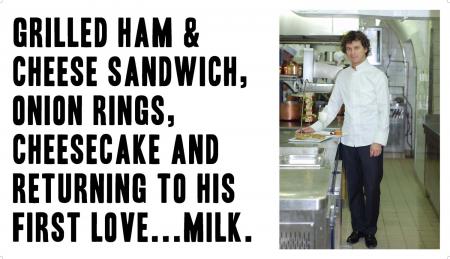 Utudjian was showing a variety of work from Patrick Guns, the Belgian artist who's recent work My Last Meals has caused quite a stir. Guns learned about the last meal for death row inmates in the USA and was touched by the variety of requests, and the subsequent denials for things like wine, or family-made goods. He then asked chefs from around the world to remake the requested menu (post-mortem). The resulting work is a print with the menu typed in large font next to a photograph of the chef.
Without mentioning whether or not I was interested in purchasing the piece, Utudjian spoke about the difficulty that Guns has had in finding chefs willing to fulfill his request and the mixed public reaction to the work. The clear passion for the work Utudjian supports was evident from the beginning, which is a far cry from the quiet, composed indifference of many gallery representatives (almost never owners) at FIAC.
SLICK encourages these types of personal interactions. Gallerists are working hard to get more exposure to their artists because they really believe in the work they're showing. Now more than ever (in our time of Blue-period Hirst paintings), collectors and art enthusiasts need to rekindle that relationship with the galleries and rebuild that trust.
As one of the SLICK owners Cecile Greismar mentioned, SLICK works "because it's affordable and because people trust us." Perhaps one of the more interesting dynamics going on at SLICK, and a reason why the gallerists are thrilled, is that the line between collector and non-collector is totally blurred which has equated to more sales. And while that evidently clear distinction at FIAC helps those galleries to decide who to devote their time to, SLICK's setup means that any casual conversation about a work has the potential to become a sale because there is always something affordable.

To give you an idea of how easy it would be to walk away from the fair with something in hand, you could do worse than purchasing one of Wen Fang's brick prints for 350 euros at Galerie W, 80 euros for one of Toulouse born artist David Brunner's Facebook wallpaper pieces at Galerie Sycomore Art booth or at the Creative Thrift Shop from Brooklyn, NY a piece from Eric Doeringer's "bootleg" series for 200 euros.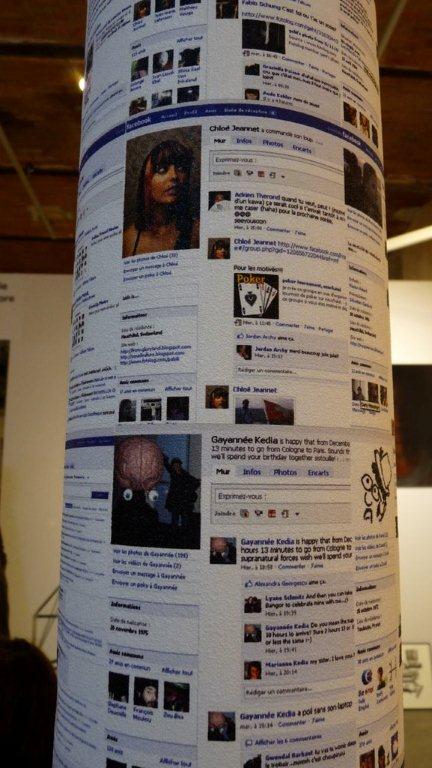 David Brunner Face book Wallpaper Gallerie Sycomore
SLICK has created a solution to the problem of art market versus the public and worked it into something fresh. As an established collector you can find cutting edge gems from established galleries, or as a new collector you can build relationships with galleries that strike a chord with you. And for the rest, there's an introduction (with introductory prices) to that special interactive ambiance that makes collecting art so addictive and fun.
Galleries and artists need to broaden their horizons to look beyond the deep pockets of a now quickly crumbling gilded class. If any fair is going to nurture and encourage collecting to a new generation of people, it is going to be SLICK.
Categories
Tags