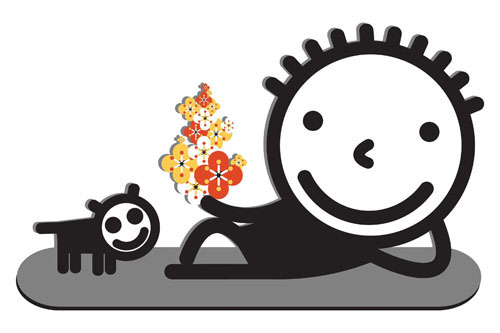 Born in 1972, Kwon Kisoo trained in classical Korean painting at Hongik University. His paintings – graphic fantasias hatched with Technicolor wands of bamboo, popping with plum blossoms, or expanses of brilliant monochrome – are inhabited by a modern icon of his own creation: an alter ego named Dongguri.
A line-drawn figure with an invariable expression, Dongguri has neither gender nor identity and often appears with an 'emoticon' army of similarly ambivalent smiley-faced clones. Kwon frequently places this comic-like protagonist within scenes that, though exploiting a graphic lexicon and characterised by pared-down parameters, are discernible to the viewer as traditional Korean landscapes. In creating this temporal confusion, Kwon instigates a dialogue between tradition and modernity, alluding at once to his characters' historical displacement and the impossibility of contextual and cultural erasure.
Though Dongguri appears as a simple motif, the character's allusions to the prevailing hegemonies of globalised commercial society, pictured by Kwon as a community of identikit subjects where difference is flattened out and aberrations expunged, bestow complex narratives on the work.
Line drawing manifests a particular economy of form, and in depicting his character in this way, Kwon enters Dongguri into an inventory of signs. As citizens of a global community built upon the great bastion of branding, we expect signs to deliver a fundamental utilitarian correctness.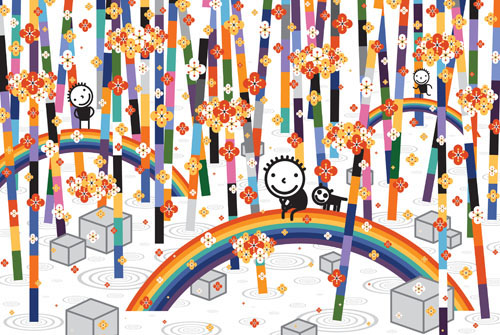 The desire to rationalise the human form has preoccupied artists for generations, and Kwon carries forward this enterprise by blurring the line (though never literally) between art and mass production, the animate figure and the abstracted signified.
The artist's experiments with codes and the conventions of representation are deeply saturated by the influence of his culture. Whilst the branch of linguistics know as semiotics is considered to be a Western invention, Asian cultures have long exploited the activity of condensing meanings, textual or otherwise, into singular symbols or hieroglyphs. As a pictogram of Global mis-identity, Dongguri's rudimentary form is loaded with the discourses of difference: the icon of an artist fluent in the language of profound simplicity.
Kwon Kisoo lives and works in Seoul. He has participated in exhibitions at the Museum of Contemporary Art, Shanghai, the Mori Art Museum, Tokyo, the Busan Biennale and the 5th Asia-Pacific Triennial of Contemporary Art. The show at Flowers is his first European solo exhibition to date.
Flowers
About Mark Westall