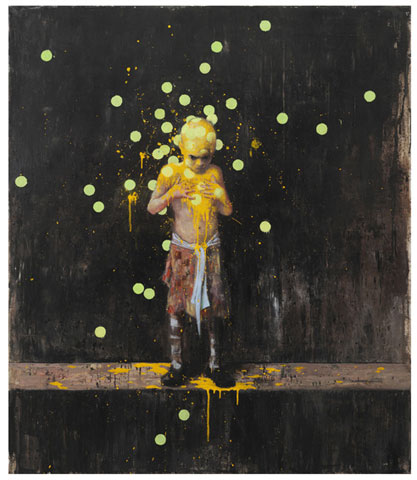 Haunch of Venison present the first UK solo exhibition by German painter Jonas Burgert this autumn. Known for his complex and mysterious narrative-style painting, Burgert will present a series of new medium and large-scale paintings.
The grotesque and the mystical provide the subject-matter for the majority of Burgert's art. Bold, sensuous and opulent, the atmosphere in his paintings is of a world of destruction and decay. Working in luminous colours glowing amidst a backdrop of pale hues, the artist depicts an apocalyptic mood of an end time, visions of a netherworld, an unknown myth or a peculiar dream.
Each painting seems like a carefully constructed stage of the opera or the circus, containing an artificial world set up with dramatic lighting, exotic costumes, fantastical make up and stage props, and all of them are oddly populated by humans and animals, shamans and magicians, giants and dwarfs, demons and harlequins, creatures dead and alive. One imagines Burgert controlling his cast like a puppeteer his marionettes, creating new realities and chaotic, orgiastic universes on the canvas.
Burgert's inspirations are multiple and derive from diverse ideologies and cultures. They come from post cards and literature, images of the Indian Holi Festival of Colours and from the artist's travels to Egypt, where he visited the remnants of its ancient culture. Another major source of inspiration lies in art history, with many references to strands of Late Renaissance thought visible in the works, particularly the Mannerist?s love of the grotesque and the curious, of harsh and crass colour disparities and of an exaggerated, 'unnatural' maniera.
About Mark Westall