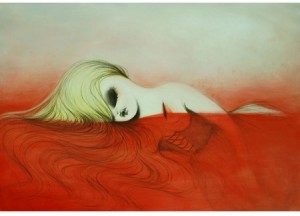 'Lovestain' A Solo Show By Miss Van 01.10.09 – 18.10.09
StolenSpace are proud to present 'Lovestain' a UK premier solo show from world renowned female street artist, Miss Van. A retrospective as well as a new body of work and taking over two exhibition spaces at StolenSpace, this will be her largest solo show to date.
Toulouse native and current Barcelona resident Miss Van started to paint her graffiti on the streets during the 90s, at the age of 18. Her overtly feminine street art was a breath of fresh air in a traditionally masculine movement of urban art and paved the way for many contemporaries. Now her infamous sultry female characters, known as her 'Poupes', are seen on the streets and in galleries alike all over the world.
From these pouting, sulky girls emerges a certain sensuality and disconcerting eroticism that is frank and unabashed. Their thoughts are palpable and the paintings become real in both flesh and spirit. Miss Van creates her characters with an innovative spirit. Affirming her style, the artist infuses into her work traits from her own personality, rendering them thus, self-portraits. It is through their fantasy that the sensitivity and fragility of the artist is expressed. She takes pleasure in playing with ambiguities, her dolls are childlike women that are equally angelic and devilish. They have a rare appeal that transcends gender-an appeal that also extends to the work that she shows in galleries.
Over the years, Miss Van's characters keep evolving. They have become less cute and more dangerously alluring, edgier – their sexy aura made all the more complex by their increasingly ambiguous facial expressions. The more she has moved into gallery work and can work with the nuances of more fragile media than the streets allow (pencil, for one), her characters have grown even more sensitive, subtle, and delicately rendered.
Featuring a retrospective of her work & new paintings this show will also see the release of a rare exclusive hand pulled limited edition screen print from Miss Van.
Categories
Tags