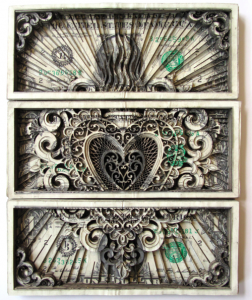 Lazarides Gallery is pleased to present "Always Almost There" a solo exhibition of all new works by Scott Campbell. It is his first major exhibition in Europe and his debut show in London. Scott is an American artist, born and raised in rural Louisiana, whose work is deeply routed in the history of tattoo iconography.
Tattoos are an emblem of contemporary culture. It is a mode of expression that has evolved its own criteria and esthetic. Like the collage of Dada, the ironic quotation of Kitsch and the murals of today's graffiti artists, tattoo has reoriented itself to be more than the sum of its parts. It has developed its own language of symbols that now speak to the modern experience.

Scott's work as a tattooist brings an unmistakable quality to his art. In his series of dollar bill sculptures, the designs are painstakingly drawn in individual layers that are then laser-cut into 100 one-dollar bills and glued into a stack. The complex images at once echo the flourishing design of the currency while creating an air of
subversion by using money as the medium. The result is a complex threedimensional image that is a literal manifestation of American-ness.
His collages build on this vocabulary of old-reliable iconography, much of which is rooted in the history of tattooing, and reflect less on tattoos for their own sake, but rather the mortal desire to memorialize and the strange narratives that arise from their combination. In his words, these are "the stories of blue collar pirates
around nicotine stained unicorns and the price is right fuck the world of it all."
Scott's work has been shown at Deitch Projects in New York City, O.H.W.O.W. In Miami, Illeana Contemporary Art Center in Athens, Greece, and The Contemporay Museum in Rome, among others.
The exhibition at the Shop at Lazarides will run from the 1st through the 30th of October 2009.
For more information please contact: www.lazinc.com
About Mark Westall