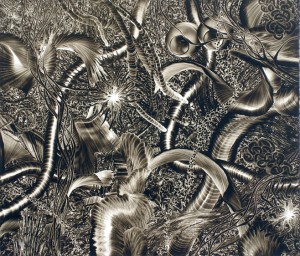 It is with Enormous Pleasure that Chelsea Zaharczuk, Suzette Field & Silas Wynd announce the launch of
Viktor Wynd Fine Art Inc ,In a new purpose designed gallery space at 11 Mare Street, E8 4RP
www.viktorwyndfineart.co.uk
The Gallery aims to foster and develop the careers of both emerging and established artists, living, dead & yet to live. Working with independent curators, as well as a dedicated in house team the gallery will produce 10-12 shows a year both within it?s own space and at external venues and aims to participate in Art Fairs Nationally & Internationally

For Its Inaugral Show We Are Delighted To Present In The Main Gallery Blood & Saltwater by Matthew Killick
Matthew Killick makes hyper-detailed paintings that are influenced by his explorations underwater. He is a keen wreck diver, and spends a lot of his time in the English Chanxnel amongst the multitude of ship carcasses that are spread all over the sea bed below one of the busiest shipping lanes in the world. It is a dark, dangerous place, often with little or no light, and barely any visibility. Within the narrow beam of torch light, he crawls along the sea floor, and studies up close the multitudes of life forms that are drawn to these unnatural reefs. Perhaps due to the intense up-close focus that this type of diving requires, the work is often reminiscent of electron microscope photography, and biological forms appear that are cell-like or bacterial. Although the works have the feeling that they are derived from careful study of organisms, they are in fact entirely fabricated.
"Painting and diving are similar activities for me. Both rely on intense concentration and focus, and there is a sense of exploration in both that excites me. When I dive in low visibility conditions, I have a very intimate connection to the things I see. My work gravitated to that type of imagery in a natural way. I didn't decide to make works that were based on my underwater experiences, it just happened on its own. Since I was young, I had heart palpatations, and during my teen years I learnt how to control them. I put this to use now that I dive, by slowing my heart rate down. This helps conserve air, but also puts me into a focussed and meditative state. It is very similar to the state of mind I experience when painting."
&
In the Project Room TORERO/TORERA by Vanessa Hodgkinson 1st October ? 1st November
Torero/Torera is part of a larger body of works developed over the past year. It takes its starting point from the bullfighting traditions of Spain, moving backwards from the artist's own experience of the corridas of Madrid to earlier anthropological symbols of the bull in Western and Eastern cultures. The work looks at the aspects of ritual, costume and gender as well as movement and physicality.
Vanessa Hodgkinson is an artist living and working in London. She studied History of Art at Cambridge University. She has held the position of Artist in Residence at Christ's College, Cambridge, and more recently at Leighton House Museum in London.
Categories
Tags