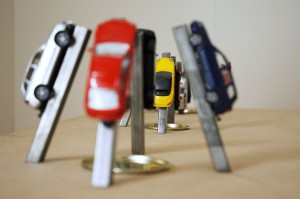 Gustav Metzger Siegesallee: Victory over the Sun 2006
Installation view from Gustav Metzger, Eva Weinmayr 2006, Kunstraum Munich, Germany 2006 Photograph © Eva Weinmayr © 2009 Gustav Metzger
29 September – 8 November 2009
The Serpentine Gallery presents a major survey of work from six decades by the influential artist and activist Gustav Metzger.
Metzger's practice represents a life-long involvement in left-wing politics, ecology, and the creative and destructive powers of twentieth and twenty-first century industrialised societies. This is the first time such an extensive overview of Metzger's work has been presented in the UK. Metzger has worked closely with the Serpentine Gallery to examine his own archives and those kept by institutions, identifying milestone works from his career and developing new works specifically for this exhibition.
The exhibition draws together the threads of Metzger's practice from 1959 to 2009. Exploring archives, locally and abroad, the exhibition brings the themes and methodologies that have informed the artist's practice for over sixty years to a new generation, who themselves have witnessed the effects of industrialisation, capitalism and globalisation in recent world events.
A broad cross-section of Metzger's work is presented, including the auto-destructive and auto-creative works of the 1960s such as the pioneering use of liquid crystals projections; the Historic Photographs series, which respond to major events and catastrophes of the twentieth century, and works exploring ecological issues, globalisation and commercialisation. Film footage of seminal performances and actions is also shown.
A central feature of the exhibition is MASS MEDIA: Yesterday and Today (2009), a participative installation using a large archive of newspapers, which Metzger has been collecting since 1995. Members of the public are invited to have a hands-on experience of the newspaper collection, by participating in the making of this new work at the Gallery.
Several works, which no longer exist due to their ephemeral or auto-destructive nature, have been recreated following the artists' instructions and other works have been commissioned specifically for the exhibition.
The exhibition is curated by Julia Peyton-Jones, Director, Hans Ulrich Obrist, Co-Director, and Sophie O'Brien, Curator, Serpentine Gallery.
Following the exhibition, the Serpentine Gallery is staging a groundbreaking two-day conference on the subject of extinction, the Mass Extinction Conference: A Call to Act (18-19 February 2010).
Gustav Metzger's work focuses on the relationship between destruction and creation. Metzger co-organised the seminal Destruction in Art Symposium (DIAS) in London in 1966 and, like that event, this conference will largely be concerned with human destructivity.
It aims to present an overarching perspective on extinction, which will reflect on art, aesthetics, poetry and music, as well as economics and science. The event is curated by Gustav Metzger, with Sir Ghillean Prance FRS acting as Science Advisor.
The conference is being organised in collaboration with the Royal Society, as part of the events to celebrate the Society's 350th anniversary year, and is in association with the Natural History Museum.
Gustav Metzger
Born in Nuremberg, Germany in 1926 to Polish-Jewish parents, Gustav Metzger was evacuated to England with his brother Max/Mendel as part of the Kindertransport in 1939. From 1945 to 1953 Metzger studied at various art schools in Cambridge, London, including David Bomberg's class at the Borough Polytechnic, Antwerp and Oxford. In 1959 he developed the concept of auto-destructive art, proposing works which could self-destruct, to reflect political and social systems spiralling towards annihilation. Auto-destructive art also concerned the use of time as a medium in art, exploring the passing of time in the slow disintegration of a sculpture, for example, or the rapid disappearance of painting by acid. In a 1961 action, three large coloured nylon 'canvases' were sprayed with acid on London's Southbank and in the process, creating as well as destroying.
In 1959, Metzger abandoned painting and used everyday objects such as cardboard packing materials, newspapers, and polythene bags with paper and fabric scraps. These readymades demonstrated both the creative potential of Machine Art and a critique of the inherent wastage of consumerism.
In 1966 Metzger co-organised the Destruction in Art Symposium (DIAS) in London, featuring contributions by Ivor Davies, Juan Hidalgo, John Latham, Yoko Ono, Ralph Ortiz, John Sharkey, Biff [Graham] Stevens, Wolf Vostell and the Viennese Actionists, who were performing outside Austria for the first time.
Metzger has been ahead of his time via his use of industrial materials and concern for environmental issues, and continues to exert a strong influence on his contemporaries. Metzger considers his political activities to be an integral part of his artistic concerns. He was a founder member of the Committee of 100 with Bertrand Russell, the Reverend Michael Scott and Ralph Schoenmann. Metzger has been consistent in his opposition to capitalism, and his stance against globalised capitalism has informed much of his work.
The Serpentine Gallery has collaborated closely with Gustav Metzger on a number of projects since 2006, including the Interview Marathon 2006, Experiment Marathon in both London and Reykjavik 2007 and the Manifesto Marathon 2008. Metzger also spoke at the Serpentine's On the Conditions of Politics conference in 2007.
Gustav Metzger's Flailing Trees, commissioned by Manchester International Festival 09, has been acquired by the Whitworth Art Gallery and placed opposite the entrance to the gallery. This is Metzger's only permanent outdoor work. In its original form, 21 inverted willows placed into a concrete platform stood in the Manchester Peace Garden throughout the Festival.
Categories
Tags