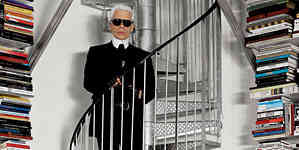 Photo:Karl Lagerfield
Karl Lagerfeld is famously a man of many parts: a Hamburg-born fashion icon whose vision of modernity is still revitalizing the legendary French house of Chanel after 25 years, an art photographer whose recent pictures of the Château de Versailles's park in winter evoke almost human emotions from the stone statuary and an instinctive connoisseur who has outfitted a plethora of homes in such spots as Hamburg, Monte Carlo, Biarritz, Rome and Paris with the finest examples of "things I like," including 18th-century French furniture, Old Master paintings and Art Deco and Memphis design items. Lagerfeld's deftness with decor has made him an avant-garde trendsetter with a wide following. His influence is reflected in the prices his collections command when sold at auction, often fetching two or three times the estimates.
One of Lagerfeld's latest projects is the Chanel Mobile Art Pavilion, a traveling contemporary-art show that he conceived as a 50th-anniversary tribute to the Chanel handbag and whose exhibition space he commissioned the Pritzker Prize–winning architect Zaha Hadid to design. For the pavilion's first stops, in Hong Kong and Tokyo, French curator Fabrice Bousteau chose original installations inspired by the emblematic purse and created by 20 contemporary artists, including Nobuyoshi Araki, from Japan; Blue Noses, from Russia; Daniel Buren and Sophie Calle, from France; Subodh Gupta, from India; and David Levinthal, from the United States. On October 20, the show swoops into New York's Central Park, where it will remain until November 9. Next year it will travel to London and Moscow, finishing up in Paris in 2010.
Jean Bond Rafferty caught up with Lagerfeld in the Chanel studio on Paris's Rue Cambon. He was putting the final touches on the 2008–09 couture collection but took the time to reveal the raison d'être of the Lagerfeld lifestyle.
Read More at (ArtInfo)
Categories
Tags