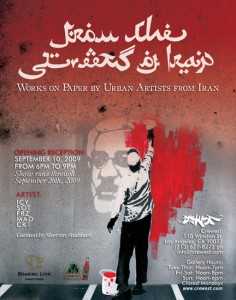 From the streets of Iran Opening reception from September 10th to September 26th.
From the Streets of Iran, Works on Paper by Urban Artists from Iran
At Crewest 110 Winston St.Los Angeles, CA 90013
This exhibit is the first of its kind in the U.S. featuring graffiti-based works on paper by ICY, SOT, FRZ, MAD, and CK1. These artists have exhibited their work in Europe, and this is their United States debut.
The artists draw inspiration from Iran's rich heritage of calligraphy, visual arts, revolution and the state in which they live, as well as their exposure to graffiti and urban art in the West. Their work encompasses a broad range of subject matter—from urbanism and political resistance to scenes of everyday people and the innocence of youth. Each of the artists practices their own aesthetic. In some works, detailed hand styles overlap with spray can imagery; in others, stencil work and careful attention to texture affect a stylized photorealism. However the individual styles may differ, the works as a group resonate with hope and a determination to realize the promise of a better future from the streets of Iran.
Curated by Shervin Shabazi
Categories
Tags