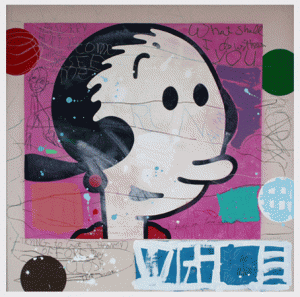 Trying to get to heaven before they close the door 2009 Acrylic and pencil on canvasl 148 x 148 cm
58 x 58 ins
Beaux Arts presents an exhibition of artist David Spiller's new work. A product of London's 1960s' art school scene, Spiller's colourful re-invention of the American Pop aesthetic is grounded in an instinctual use of colour and a keen eye and ear for the lyrical phrases and comic book ephemera of popular culture.
Soulful, honest, emotive and bold, David Spiller's paintings demonstrate a powerful sense of the connection between art, music, text, colour and memory. His canvases use fragments of lyrics to appeal to each viewer's personal history and spell out a new poetry of Pop. Never sentimental but full of sentiment, his work is both uplifting and profoundly engaging through its quotation of love songs and plain avowal of fun. Sometimes a single work will contain lyrics from disparate groups and musicians such as U2, Jerry Lee Lewis, The Beatles and Bob Dylan. Occasionally he simply quotes a song his mother sang.
Spiller's studio is always filled with music and the floor is scattered with life-size canvases and stencils. Many of his works are created by laboriously stitching together panels of material. These swatches of colour and text juxtapose to create a pristine whole over which he then graffitis like a child trying to leave his mark. In an age of Hirst and Koon's assembly line art, Spiller is a welcome old school presence. His skilled draughtsmanship and painstaking processes speak of craft, technical skill and artistic integrity. Every scrawl and drip of paint reminds the viewer that behind each mark is the sweep of a hand or arc of a brush.
Above all Spiller wishes to communicate. By using the collective cultural symbolism of cartoons and the shared heritage of 20th Century music he hopes to reach out to each individual viewer through the universal visual language at his disposal. His spontaneous scribbles and graffiti hint at the frustrations of artistic communication and the struggle to create an image which is honest. 'I think it is desperation a lot of the time in my work – "What the hell do you do?" You work like a child with a tower of bricks, building this thing, and there comes a point when you want to push it over.'
'Taking iconic images from popular culture as their starting point, Spiller's paintings knock these symbols of high kitsch from their art-historical plinths and dredge them through the gutter of urban decay and human longing.' Jonathan Jones, Modern Painters
Spiller on Spiller
'I was born in the town of Swanley in the county of Kent in the month of August. My story is; my story… as a gang of boys laying on the top of a haystack looking for a glimpse of a flying saucer… at the cinema with the Marx Brothers, Bugs Bunny, Roy Rogers, Superman and Flash Gordon… laying in a cornfield listening to a skylark… family walks after Sunday lunch… going to school with a hole in the arse of my trousers… trying to keep up with my mum who walked so fast… the green fields, the woods, the ploughed fields… the Flying Scotsman racing by… my story is; your story… a story of love; love found, love lost, love dreamed of, love hoped for, love shared, love the impossible and a longing to be a hero.
The magic of images and the making of art fill me with the same hope today as they did all those years ago when I was a boy…' David Spiller
About Mark Westall